News
GOP Governor Says He Regrets Signing Law Banning Mask Mandates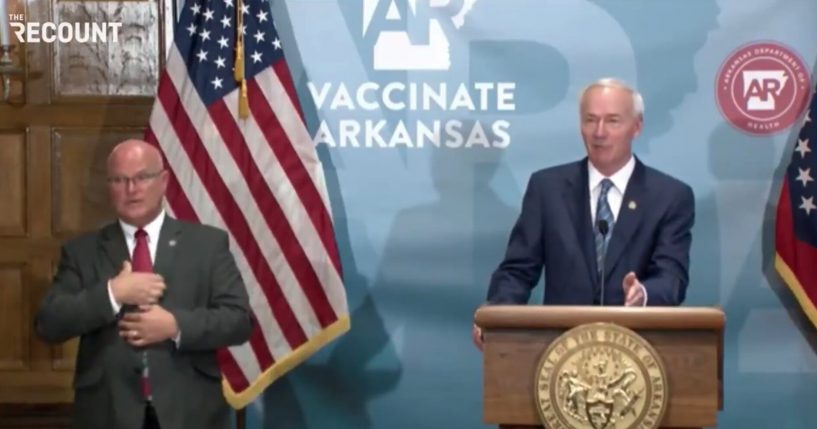 As COVID-19 cases are on the rise around the country, Arkansas Gov. Asa Hutchinson (R) says he wishes that he did not sign a law banning mask mandates.
During a press conference on Tuesday, Hutchinson noted he signed a law in April that banned state or local mask mandates because the number of new coronavirus cases was at a "low point."
However, he said, "Everything has changed now. And yes, in hindsight, I wish that had not become law. But it is the law and the only chance we have is either to amend it or for the courts to say that it has an unconstitutional foundation."
Advertisement - story continues below
The governor's comments come as Arkansas is seeing a new surge of coronavirus cases. The state currently has the third-highest number of cases per 100,000 per capita in the country.
Watch the video below:
Gov. Asa Hutchinson (R-AR) says he regrets signing law banning local mask mandates, as COVID cases quickly rise in his state.

"In hindsight, I wish that had not become law," said Hutchinson, who has asked lawmakers to allow school districts to adopt mask mandates. pic.twitter.com/sj1Q8ukLCA

— The Recount (@therecount) August 4, 2021
Hutchinson clarified that he is "not in favor" of a statewide mask mandate. But, the governor said he asked the state legislature to amend the law to let school districts require masks.
Advertisement - story continues below
"The local school districts should make the call, and they should have more options to make sure that their school is a safe environment during a very challenging time for education," Hutchinson said.
Arkansas is not alone in banning mask mandates, White House Press Secretary Jen Psaki said on Tuesday that seven other states have implemented measures that ban statewide mask mandates and prohibit school districts from requiring masks.
Is it a mistake to ban mask mandates?
President Joe Biden blasted governors from those states during an event on Tuesday, "I say to these governors: Please help. But if you aren't going to help, at least get out of the way."
"The people are trying to do the right thing. Use your power to save lives," he added.
The U.S. is experiencing a rise in coronavirus infections. On Tuesday, the country recorded 149,788 new cases, numbers not seen since late January.
Truth and Accuracy
We are committed to truth and accuracy in all of our journalism. Read our editorial standards.
Comment Down Below
Conversation