News
GOP Lawmaker Claims There Will Be 'Bloodshed' if Elections 'Continue To Be Rigged'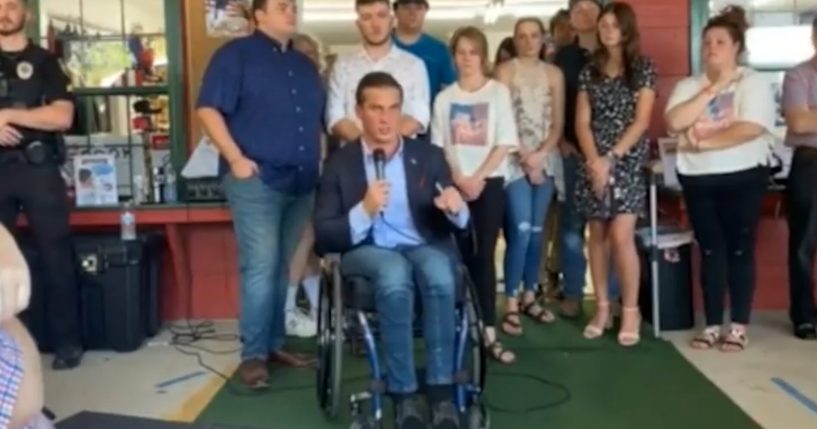 Rep. Madison Cawthorn (R-N.C.) is pushing for states to implement new so-called election security measures and warning that failure to do so could lead to violence.
"If our election systems continue to be rigged, continue to be stolen, then it's going to lead to one place, and it's bloodshed," Cawthorn said during an event in North Carolina on Sunday.
He added, "And I will tell you, as much as I am willing to defend our liberty at all costs, there's nothing that I would dread doing more than having to pick up arms against a fellow American. And the way that we can have recourse against that is if we all passionately demand that we have election security in all 50 states."
Advertisement - story continues below
Watch the video below:
Rep. Madison Cawthorn of North Carolina insinuated the possibility of another insurrection with local Republicans.

"If our election systems continue to be rigged, continue to be stolen, then it's gonna lead to one place and that's bloodshed." pic.twitter.com/I8dEdxVsXO

— WCPT 820 (@WCPT820) August 31, 2021
Luke Ball, a spokesman for Cawthorn, told CNN the Congressman was "CLEARLY advocating for violence not to occur over election integrity questions."
"He fears others would erroneously choose that route and strongly states that election integrity issues should be resolved peacefully and never through violence," he added.
Advertisement - story continues below
Former President Donald Trump repeatedly alleged that the 2020 presidential election was stolen through widespread fraud.
Despite his claims, several recounts and legal challenges failed to change the outcome of the election.
Do you think states should pass stricter voting laws?
While Cawthorn addressed concerns about widespread fraud, he told CNN in January, "I think I would say that the election was not fraudulent. You know, the Constitution allowed for us to be able to push back as much as we could, and I did that to the amount of the constitutional limits that I had at my disposal. So now I would say that Joseph R. Biden is our president."
Ball also told the network that Cawthorn "raised objections" to the Electoral College vote because "he had severe concerns about how the elections were conducted and how laws were changed last-minute to favor Democrats."
Truth and Accuracy
We are committed to truth and accuracy in all of our journalism. Read our editorial standards.
Comment Down Below
Conversation