News
GOP Leader Whacks Biden After Killing of Zawahiri: Why Was He 'Sitting in a Balcony' in Kabul?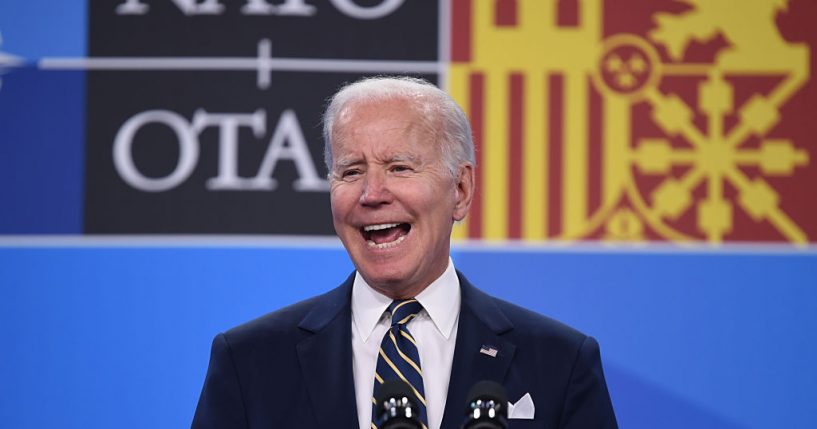 President Joe Biden is receiving some credit for the strike that killed Ayman al-Zawahiri, the leader of al-Qaeda.
However, the leader of House Republicans is asking why one of the plotters of the 9/11 terrorist attacks showed up in Kabul, Afghanistan — the capital — less than a year after the U.S. completed its withdrawal from the country.
During an appearance on Fox News, House Minority Leader Kevin McCarthy (R-Calif.) said, "It is great that we were able to take out the terrorist. But why is the terrorist that helped plan 9/11 sitting in a balcony in the capital of Afghanistan?"
Advertisement - story continues below
He went on to appear to suggest that Zawahiri being in Kabul shows the Taliban and al-Qaeda have gotten "back together again" and Biden's decisions "were wrong."
"Thirteen more Gold Star families. He didn't listen to the military getting out. He's weakened us around the country," McCarthy added.
Watch the video below:
House Minority Leader Kevin McCarthy is trying really hard not to give President Biden credit for the killing of the leader of al Qaeda:

"It is great that we were able to take out the terrorist, but why is the terrorist … sitting in a balcony in the capital of Afghanistan?" pic.twitter.com/UqPyWRDPpx

— The Recount (@therecount) August 3, 2022
Advertisement - story continues below
Early Sunday morning, a CIA-operated drone conducted a strike reportedly while Zawahri stood on the balcony of his Kabul home.
CNN notes, "No American personnel were on the ground in Kabul at the time of the strike."
"Senior Haqqani Taliban figures were aware of Zawahiri's presence in the area, the official said, in "clear violation of the Doha agreement," and "even took steps to conceal his presence after Saturday's successful strike, restricting access to the safe house and rapidly relocating members of his family, including his daughter and her children, who were intentionally not targeted during the strike and remained unharmed. The U.S. did not alert Taliban officials ahead of Saturday's strike," it added.
Biden said in a Monday speech announcing Zawahiri's demise, "Justice has been delivered, and this terrorist leader is no more."
He added, "We make it clear again tonight that no matter how long it takes, no matter where you hide, if you are a threat to our people, the United States will find you and take you out."
Advertisement - story continues below
Last year, Biden assured Americans that the U.S. has "what's called over-the-horizon capabilities, which means we can strike terrorists and targets without American boots on the ground—or very few, if needed."
While Politico notes that his killing is "a major win for the United States in the ongoing struggle against Islamist terrorism," the fact that the leader of a terrorist organization was in Kabul on a balcony has raised some questions among Republicans about Biden's previous claims.
A senior counterterrorism analyst told CNN that it would have been "impossible" for Zawahiri to be "be in Kabul without the invitation and acquiescence of at least a small number of Taliban."
"The analyst said that this strike was embarrassing for the Taliban as they had claimed there were no foreign fighters in Afghanistan and no al Qaeda," the network added.
Advertisement - story continues below
In Sept. 2021, Lt. Gen. Scott D. Berrier, the director of the Defense Intelligence Agency said at the annual Intelligence and National Security Summit that following the United States' withdrawal from Afghanistan, it could take "one to two years for Al Qaeda to build some capability to at least threaten the homeland."
Truth and Accuracy
We are committed to truth and accuracy in all of our journalism. Read our editorial standards.
Comment Down Below
Conversation