GOP Senator Reveals Conversation With Trump About Pence's Evacuation on Jan. 6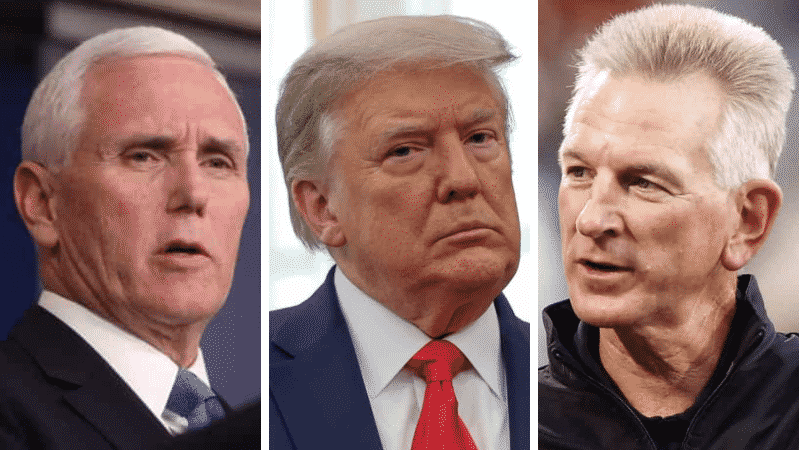 A Republican senator spoke with then-President Donald Trump on Jan. 6 when then-Vice President Mike Pence was evacuated from the Senate chamber as protesters stormed the U.S. Capitol.
Sen. Tommy Tuberville (R-Ala.) shared with journalists during a call late Wednesday about his conversation with Trump, according to The Hill.
"I said, 'Mr. President, they just took the vice president out, I've got to go,'" Tuberville said told reporters about his remarks to Trump.
It was previously known Tuberville spoke with Trump, but not the details.
As The Hill points out, Trump tweeted around the time of his call with Tuberville that Pence "didn't have the courage" to stop the certification of the election results.
The now-former president tweeted at 2:24 p.m. EST on Jan. 6, "Mike Pence didn't have the courage to do what should have been done to protect our Country and our Constitution, giving States a chance to certify a corrected set of facts, not the fraudulent or inaccurate ones which they were asked to previously certify. USA demands the truth!"
The mob stormed the U.S. Capitol following a rally in Washington, D.C., where Trump spoke.
Following the riot, Trump was impeached by the House of Representatives on the charge of "incitement of insurrection." The Senate's impeachment trial is underway, heading into the third day.
During Wednesday's hearing, Del. Stacey Plaskett (D), an impeachment manager, narrated footage shown and said, "The mob was looking for Vice President Pence because of his patriotism." She continued, "Because the vice president had refused to do what the president [demanded] and overturn the election results."
JUST IN: House impeachment managers play security footage of Vice Pres. Pence being evacuated from room near the Senate chamber amid Capitol breach, moments after "Officer Goodman led the mob away from the chamber." https://t.co/welJUzOXal pic.twitter.com/d8RLZr0GKO

— This Week (@ThisWeekABC) February 10, 2021
She also said, "The vice president, the speaker of the House, the first and second in line to the presidency, were performing their constitutional duties presiding over the election certification, and they were put in danger. President Trump put a target on their backs, and his mob broke into the Capitol to hunt them down."
Additionally, Rep. Joaquin Castro (D-Texas), an impeachment manager, said on Wednesday of Trump's tweet against Pence on Jan. 6, "He further incites the mob against his own vice president, whose life was being threatened."