News
GOP Senator Dodges When Asked If the 2020 Election Was an 'Insurrection'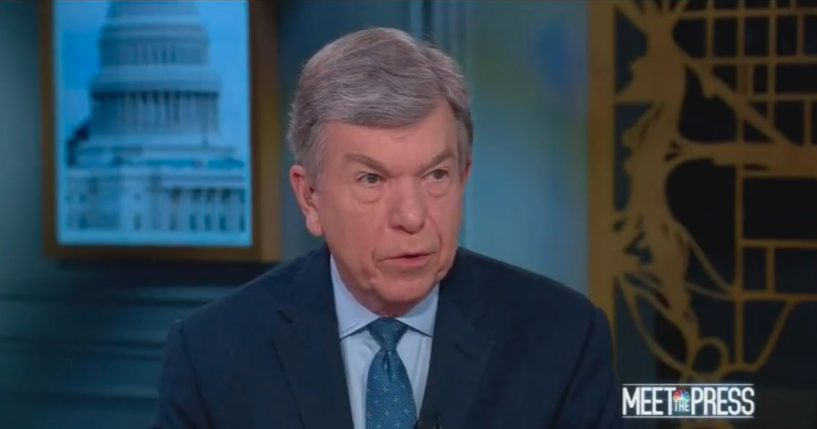 A Republican senator is refusing to explicitly reject former President Donald Trump's claim that the 2020 presidential election was an "insurrection."
During an appearance on MSNBC's "Meet The Press" on Sunday, Sen. Roy Blunt (R-Mo.) was asked about Trump's recent claim that the last presidential election, and not the Jan. 6 riot at the U.S. Capitol, was an "insurrection."
Host Andrea Mitchell asked, "Was Election Day an insurrection?"
Advertisement - story continues below
"You know, I think the election was what it was," Blunt responded. "There's a process you go through that determines whether or not the early reports were the right reports, and we went through that process."
He continued, "I'm of the view that the best thing President Trump can do to help us win majorities in 2022 is talk about the future. And he can be an important part of this '22 effort. But I think [we're] better off to talk about the future than to focus on the past in every election."
Watch the video below:
ANDREA MITCHELL: Do you agree with Trump that election day was an "insurrection"?

SEN. ROY BLUNT: I think the election was what it was pic.twitter.com/eDgpGY5Q2S

— Aaron Rupar (@atrupar) October 24, 2021
Advertisement - story continues below
In a statement on Thursday, Trump claimed, "The insurrection took place on November 3, Election Day. January 6 was the Protest!"
The Associated Press fact-checked his statement and noted, "There was no insurrection on Election Day. There was a free and fair election won by Democrat Joe Biden."
"Despite Trump's repeated claims, no evidence of widespread corruption has ever been found. Every state has certified its results as fair and accurate, and numerous state and federal election officials — including Trump's own attorney general at the time — have said there was no evidence of systemic fraud or errors of a scale that could have possibly change the outcome," the outlet noted.
The AP added that on Jan. 6, rioters stormed the U.S. Capitol, smashed windows, chanted "Hang Mike Pence," and fought with law enforcement officers in a bid to stop the certification of the election results.
Additionally, it noted that nine people died during and after the riot.
Truth and Accuracy
We are committed to truth and accuracy in all of our journalism. Read our editorial standards.
Comment Down Below
Conversation