News
GOP Rep. Gosar's Sister Speak Out After He Says Officer 'Executed' Capitol Rioter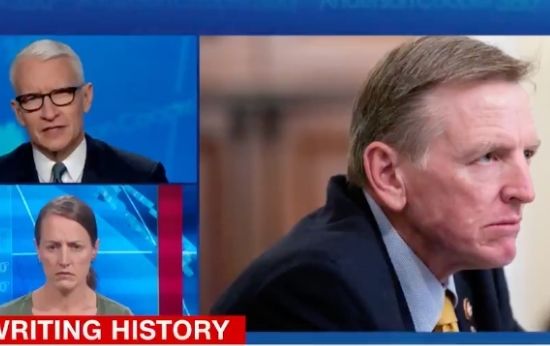 The sister of Rep. Paul Gosar (R-Ariz.) is speaking out against her brother's views.
CNN's Anderson Cooper noted that he reached out to eight people in Paul Gosar's office and got the response, "Thank you, we decline." However, the Congressman's sister Jennifer Gosar appeared on "Anderson Cooper 360" Wednesday evening.
The lawmaker's sister and other siblings have campaigned against Paul Gosar.
Advertisement - story continues below
"To see our Congressmen are actively trying to erase what is a very documented insurrection and to know my brother is a part of that is not surprising to me," Jennifer Gosar said.
She added, "I'm just stunned at the brazenness of it."
Additionally, Jennifer Gosar said she "absolutely" believes her brother is partially responsible for the riot that occurred at the U.S. Capitol on January 6, which she called a "criminal act."
"I do still believe my brother … was a part organizer of" the Capitol riot on January 6, she added.
Advertisement - story continues below
Watch the interview below:
GOP Rep. Paul Gosar's sister speaks out about her brother's extremist views saying she is "stunned by the brazenness of it."

She says she believes her brother is partly responsible for the Jan 6. insurrection calling it a "criminal act… my brother was a part organizer of." pic.twitter.com/GFSNnE15wn

— Anderson Cooper 360° (@AC360) June 17, 2021
Jennifer Gosar's reaction comes after Paul Gosar said during Tuesday's hearing that Ashli Babbitt, who was fatally shot by a Capitol Police officer on January 6, was "executed" by the police officer.
"It's disturbing. The Capitol police officer that did this shooting appeared to be hiding, lying in wait and then gave no warning before killing her," Paul Gosar said. He reiterated the claim that Babbitt was "executed."
The officer's name has not been disclosed, but the officer was cleared of criminal wrongdoing.
Advertisement - story continues below
Asked about Paul Gosar's remarks, his sister told Cooper, "The convenience which Paul finds stories to fuel his anger, his hate and his bigotry. Does he believe it all? I think he probably doesn't but it's so convenient." She said her brother is able to "fuel his rhetoric" with that.
Paul Gosar received some criticism for his remarks from lawmakers, including from Rep. Liz Cheney (R-Wyo.), who tweeted, "On January 6, as the violent mob advanced on the House chamber, I was standing near [Rep. Paul Gosar] and helped him open his gas mask. The Capitol Police led us to safety. It is disgusting and despicable to see Gosar lie about that day and smear the men and women who defended us."
Additionally, Rep. Adam Kinzinger (R-Ill.) said on Twitter, "You're sick Paul, sadly. Truth is, Ashli was manipulated by people like you and breached an area and put lives in danger despite being repeatedly warned not to. The real criminals are the liars abusing people for political power."
Truth and Accuracy
We are committed to truth and accuracy in all of our journalism. Read our editorial standards.
Conversation