News
'Forget It!': Graham Accuses Biden of 'Extortion' Over Dual-Track Infrastructure Strategy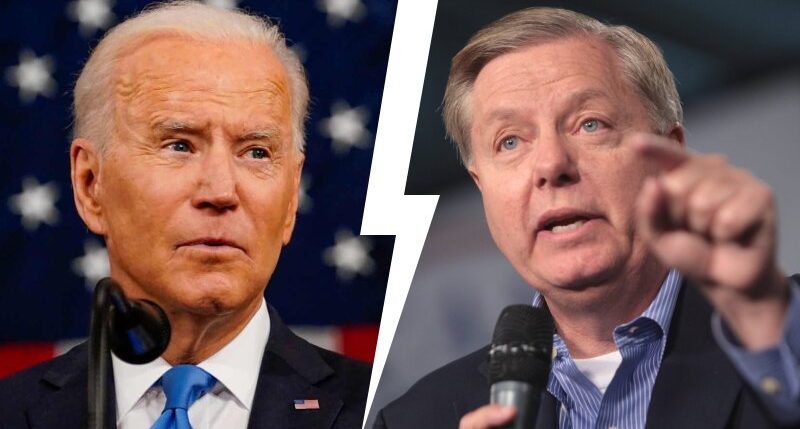 Sen. Lindsey Graham (R-S.C.) is not having it with President Joe Biden's dual-track strategy following a bipartisan infrastructure deal.
Graham is out after hearing from Biden that he will not sign the bipartisan infrastructure deal if a reconciliation bill is not passed by Congress.
"If he's gonna tie them together, he can forget it!" Graham told Politico on Thursday evening. "I'm not doing that."
Advertisement - story continues below
The Republican senator continued, "That's extortion! I'm not going to do that. The Dems are being told you can't get your bipartisan work product passed unless you sign on to what the left wants, and I'm not playing that game."
Biden told reporters on Thursday, "I expect that in the coming months this summer, before the fiscal year is over, that we will have voted on this bill, the infrastructure bill, as well as voted on the budget resolution. But if only one comes to me, this is the only one that comes to me, I'm not signing it. It's in tandem."
Graham was among the 11 Republicans who signed the original bipartisan infrastructure framework, as Politico Playbook notes.
However, the senator said he was not aware of the dual-track strategy.
Advertisement - story continues below
"Most Republicans could not have known that. There's no way. You look like a f***ing idiot now," Graham told Politico, adding, "I don't mind bipartisanship, but I'm not going to do a suicide mission."
Additionally, a senior GOP aide told the publication, "The president's comments did real damage here. It is astonishing that he could endorse this bipartisan framework in one breath and then announce he will hold it hostage in the next."
Biden met with a bipartisan group of senators on Thursday and they came to a deal on an infrastructure package, as IJR reported on.
Here is the spending breakdown for the bipartisan infrastructure proposal that President Biden has endorsed: pic.twitter.com/SNIBlQvVOm

— Kaitlan Collins (@kaitlancollins) June 24, 2021
House Speaker Nancy Pelosi (D-Calif.) also said that the House of Representatives would not vote on a bipartisan infrastructure plan until a reconciliation bill is passed by the Senate, according to The Hill.
Advertisement - story continues below
Senate Minority Leader Mitch McConnell (R-Ky.) took a swipe at Biden for the dual-track infrastructure plan, as IJR also reported.
"Less than two hours after publicly commending our colleagues and actually endorsing the bipartisan agreement, the president took the extraordinary step of threatening to veto it," McConnell said on the Senate floor on Thursday. "It was a tale of two press conferences. Endorse the agreement in one breath and threaten to veto it in the next."
He added, "It almost makes your head spin … an expression of bipartisanship and then an ultimatum on behalf of your left-wing base."
The bipartisan infrastructure bill would need 10 Republicans to join all Democrats in the Senate to overcome a filibuster.
Advertisement - story continues below
As for a reconciliation bill, all 50 Democratic senators would have to vote for it and Vice President Kamala Harris would cast the tie-breaking vote.
Truth and Accuracy
We are committed to truth and accuracy in all of our journalism. Read our editorial standards.
Comment Down Below
Conversation