Graham Says Democrats Have a 'Good Chance' of Winning the White House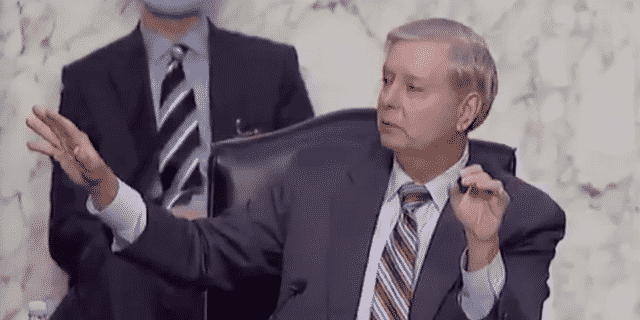 Sen. Lindsey Graham (R-S.C.) is claiming that Democrats have a "good chance" to win the White House in the upcoming election.
The South Carolina lawmaker's remarks came on the fourth day of Supreme Court nominee Amy Coney Barrett's confirmation hearings, where senators are hearing from legal experts on the last day.
During Thursday's hearing, Graham responded to criticism from Sen. Amy Klobuchar (D-Minn.) on Republicans moving forward with Barrett's hearings and a panel vote scheduled for next week.
"Democrats generally look at people of a disposition like Justice [Sonia] Sotomayor and [Elena] Kagan," Graham said. "Now, y'all have a good chance of winning the White House. I don't know where the polls are going to be."
Klobuchar quickly responded, "Thank you for acknowledging that."
The Republican senator then said, "Yeah, I think it's true."
Watch the video below:
Lindsey Graham: "Y'all have a good chance of winning the White House."

Sen. Amy Klobuchar: "Thank you for acknowledging that."

Graham: "Yeah, I think it's true." pic.twitter.com/Zy2YxqdiC3

— The Hill (@thehill) October 15, 2020
Republicans have pushed for the Supreme Court vacancy to be filled ahead of the Nov. 3 election. If confirmed, Barrett would take the spot left behind by late Justice Ruth Bader Ginsburg.
Sen. Kamala Harris (D-Calif.) said on Sunday that Republican lawmakers moving forward with the confirmation hearings this week "[endangers] the lives of not just members and our staff, but the hardworking people who keep the Senate complex running" due to the coronavirus pandemic.
She also called the hearings "reckless" during her video call into the hearing on Monday.
"This committee has ignored common-sense requests to keep people safe, including not requiring testing for all members, despite a coronavirus outbreak among senators of this very committee," Harris added.
However, the Senate Judiciary Committee held the hearings this week for Barrett's confirmation and announced on Thursday that the committee scheduled a vote on Oct. 22 to approve her nomination.
The Republican-controlled Senate then plans to hold a final vote during the week of Oct. 26 on Barrett's nomination.