FaithTap
Grandmother of Texas Schol Shooting Victim Gives Encouragement to Other Parents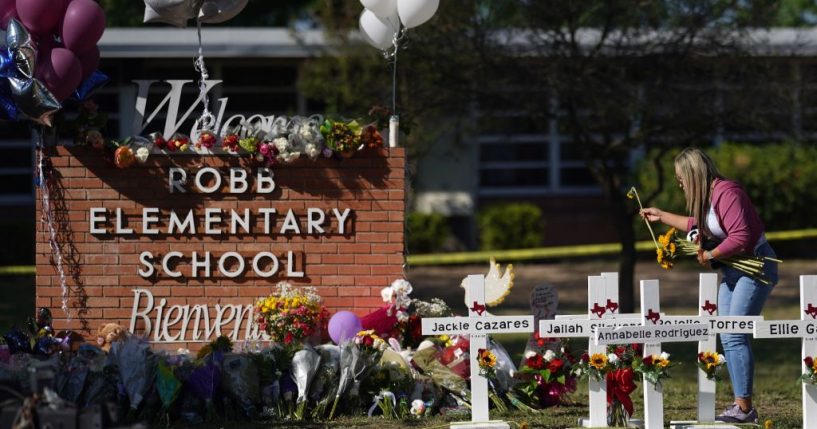 After the tragic loss of her grandson who died in the Texas school shooting on Tuesday, a grandmother is opening up about her grief.
"It's so hard. You send your kids to school, and thinking they're going to make it back home and they're not," Amelia Sandoval told "Good Morning America."
10-year-old Xavier James Lopez was one of the 19 students who were killed at Robb Elementary School.
Advertisement - story continues below
"God is going to see us through this tragic" time, Sandoval said.
It can be difficult to grasp why God allows evil to happen in this world.
James 1:14-15 says, "But each person is tempted when he is lured and enticed by his own desire.Then desire when it has conceived gives birth to sin, and sin when it is fully grown brings forth death."
Amelia Sandoval shared that her grandson "was so happy" and he had just found out "that he had made the A and B honor roll."
Advertisement - story continues below
Galatians 6:2 says, "Bear one another's burdens, and so fulfill the law of Christ," and Sandoval showed her support for parents who have also experienced the same loss.
"We pray for the other parents going through similar situations. My prayers and our sincere condolences go out to them as well. We can get through this, we stand together and pray," she said.
Continuing, she said, "We can get through this. Just stand together, stand strong."
"My heart was broken today," Hal Harrell, the superintendent of the Uvalde Consolidated Independent School, said of the shooting. "We're a small community. And we'll need your prayers to get us through this," per NBC News.
Advertisement - story continues below
Robb Elementary teacher Karla King spoke to The Daily Beast about the tragedy as well.
"We're all in a real sad time right now and I cannot express to you how sad everyone is at this time," she said, adding, "I'm still grieving."
Per GoFundMe, there is a fundraiser for the families who have been affected by the shooting and so far over 2.9 million dollars has been raised, as of Thursday afternoon.
Truth and Accuracy
We are committed to truth and accuracy in all of our journalism. Read our editorial standards.
Comment Down Below
Conversation