News
Hailey Bieber Gives Update on How Justin Bieber Is Doing Since Ramsay Hunt Diagnosis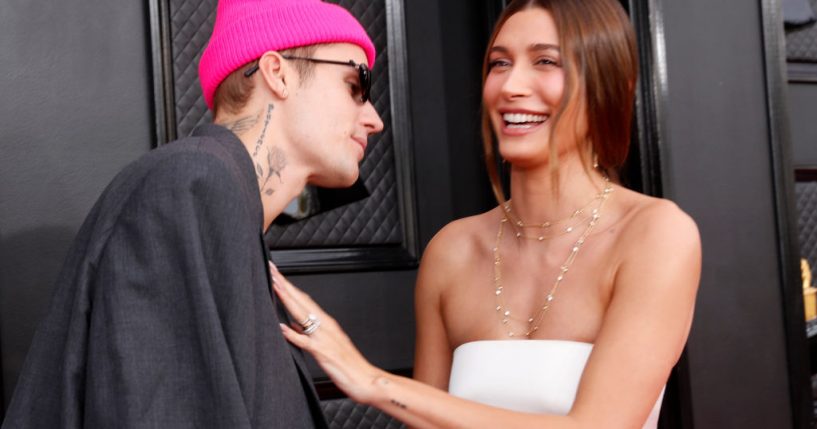 Model Hailey Bieber shared an update about her husband Justin Bieber's health after he was diagnosed with Ramsay Hunt syndrome.
On Friday, Singer Justin Bieber revealed on his Instagram that half of his face is now paralyzed due to this medical condition.
"Ramsay Hunt syndrome occurs when a shingles outbreak affects the facial nerve near one of your ears" but is more common in people over the age of 60, according to Mayoclinic.
Advertisement - story continues below
When asked how Justin Bieber is doing right now, Hailey Bieber told "Good Morning America," "He's doing really well. He's getting better every single day. He's feeling a lot better and, obviously, it was just a very scary and random situation to happen but he's going to be totally OK."
She added, "I'm just grateful that he's fine."
Hailey Bieber also spoke about the support Justin Bieber has received from others.
"The support has been really amazing just from fans, friends, family. Like every single person has sent well wishes, advice, recommendations. It's actually been really amazing," she said.
Advertisement - story continues below
Hailey Bieber also went through her own health scare after suffering a mini stroke in March. She shared what it has been like for her and Justin Bieber, as a couple, dealing with these medical issues together.
"I mean, I think two things, like going through it very publicly in front of a lot of people it kind of almost in a way forces you to have to just be upfront about what's going on so that people understand what you're going through and I actually think it opened up a lot of really important and amazing conversation," she said.
Nonetheless, Hailey Bieber said there has been a "silver lining" in all of it.
"It brings us a lot closer cause you're going through this together, you're being there for each other, you're supporting each other, and there's just something that really like bonds you through these times. So that is I think the silver lining in these crazy times," she said.
Advertisement - story continues below
2 Corinthians 1:3-4 tells us, "Praise be to the God and Father of our Lord Jesus Christ, the Father of compassion and the God of all comfort, who comforts us in all our troubles, so that we can comfort those in any trouble with the comfort we ourselves receive from God," and God is where Justin Bieber is finding his comfort in the midst of his condition.
He gave an update of his own on his Instagram story writing on Sunday, "Each day has gotten better and through all of the discomfort I have found comfort in the one who designed me and knows me. This perspective has given me peace during this horrific storm that I'm facing. I know this storm will pass but in the meantime, Jesus is with me." 
Truth and Accuracy
We are committed to truth and accuracy in all of our journalism. Read our editorial standards.
Comment Down Below
Conversation