News
Nikki Haley Labels Feinstein a 'Prime Example' of Why 'We Need Mental Competency Tests'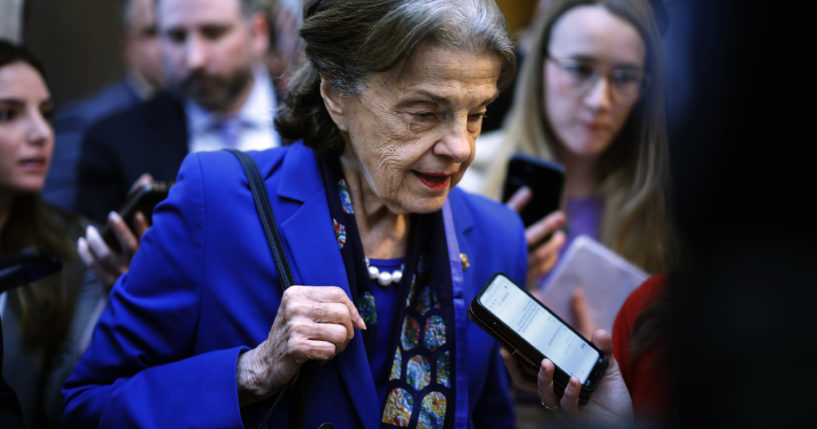 Republican presidential hopeful Nikki Haley is sharing the name of a politician she claims is the "prime example" of why she believes mental competency tests are needed.
In an op-ed published by Fox News on Monday, Haley wrote, "America needs a new generation of leaders to renew our national strength and pride. It's why I support term limits for members of Congress, and why I've called for mental competency tests for politicians over the age of 75. To most Americans, this is common sense. But many political and media elites scoff at these ideas."
She noted former CNN journalist Don Lemon criticized her for her comments and suggested she was not "in her prime."
Advertisement - story continues below
"But what's incredible is how the Washington establishment continues to cover for those who likely lack the mental acuity to do their job," Haley added.
She went on:
"Take Sen. Dianne Feinstein. She's a trailblazer who's made an indelible mark in public service. But it's been obvious for quite some time that she's in significant mental and physical decline. She's missed months of votes and clearly can no longer do her job."
Haley argued, "At 89 years old, she is a prime example of why we need mental competency tests for politicians."
Advertisement - story continues below
She also pointed out former House Speaker Nancy Pelosi (D-Calif.) suggested the calls for Feinstein's resignation were stemming at least in part from her being a woman.
But Haley wrote, "The best case for such tests is in fact a man. He's a former senator and the sitting president."
She then turned her attention to President Joe Biden.
"If he wins next November, he will be 82 years old when he takes the oath of office, and 86 at the end of a second term. That would surpass the oldest president in American history by nine years," she continued, adding, "That's not a problem in itself, but millions of Americans watch President Biden and believe he exhibits cognitive decline."
The former United Nations ambassador shared the test she wants politicians to take is "not complicated or difficult."
Advertisement - story continues below
She listed the Montreal Cognitive Assessment Test, which is "a widely used tool for detecting cognitive decline."
"[Biden and Feinstein] should both take the test, along with every other politician over the age of 75 – Republican or Democrat, man or woman – and publish the results," she wrote.
Finally, Haley argued voters should "know whether those who are making major decisions about war and peace, taxation and budgets, schools and safety, can pass a very basic mental exam."
"Career politicians and elites oppose competency tests not because they are aimed at women like Sen. Feinstein, as Nancy Pelosi suggests. They dislike them because they don't want to hold the present leadership of our country accountable. They don't want a new generation to turn our country around. But that's what the American people deserve," she concluded.
Advertisement - story continues below
During her campaign kick-off event in February, Haley called for "mandatory mental competency tests for politicians over 75 years old."
Truth and Accuracy
We are committed to truth and accuracy in all of our journalism. Read our editorial standards.
Comment Down Below
Conversation