News
Hannity Rips 'Idiots in the Media' Who Were 'Shocked' by Him Telling Viewers To Take COVID Seriously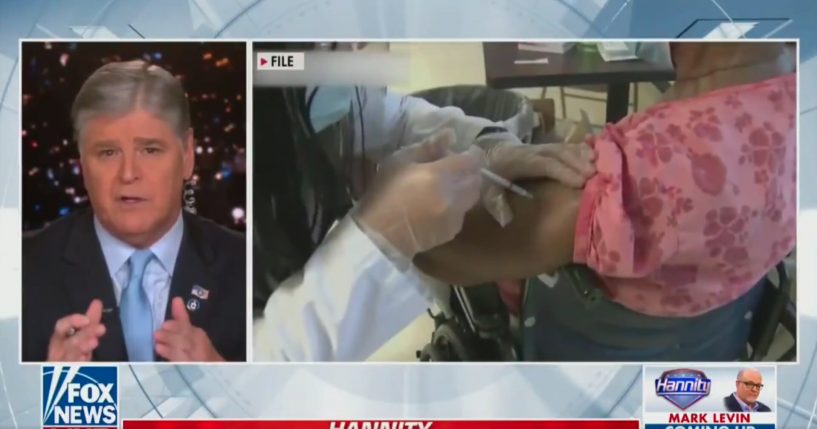 Fox News host Sean Hannity says he did not urge viewers to get vaccinated against COVID-19, while taking a swipe at "idiots in the media" who were "shocked" by him urging people to take the virus seriously.
During a segment on his show on Thursday, Hannity said, "I have no idea why, but in the last week my coverage of coronavirus, Covid-19 got the attention of the liberal press and their attempts to paint this great network of ours…to paint us as a dangerous anti-vax network. They watched this program and were shocked to discover what I said and what I had been saying for months and months and months."
He read several headlines from different outlets that said he had urged viewers to get vaccinated against the virus, then said they were "all false for multiple reasons."
Advertisement - story continues below
He began by noting that he touted Operation Warp Speed, the federal government's operation to speed up the development of a vaccine, and he claimed he did not urge people to get vaccinated.
"I never told anyone to get a vaccine," the host said. "I am simply not qualified. I am not a medical doctor. I know nothing about your medical history or your current medical condition. I think it's inappropriate for me to do so."
Watch the video below:
Hannity wants everyone to know "I never told anyone to get a vaccine."

So, basically, he wants you all to stop giving him any credit for urging his viewers to get vaxxed. pic.twitter.com/1nr1SYcPqs

— Justin Baragona (@justinbaragona) July 23, 2021
Advertisement - story continues below
He continued, "Instead, for over a year now, I have been warning my viewers, you make my career possible. I want every American – liberal, conservative, Republican, Democrat – I want you to be healthy. I have seen the worst of this virus in people that I love and care about. [I said] to take Covid-19 seriously. And I've said it over and over and over again. It's not been in the last week. I said to take it seriously and do your own research."
Hannity said he encouraged viewers to talk to their healthcare provider about the vaccine and "based on your specific medical history and health issues, that will be an important decision with you and your doctor based on your very unique and specific circumstances."
He also noted that he asked doctors about the coronavirus and different potential treatments.
Finally, he said, "Let me say this one more time for all the idiots in the media mob to hear loudly and clearly. I am not a doctor. I will not dispense medical advice without a license. Please, to my audience, take it seriously. I have seen the worst of this firsthand."
Earlier this week, the Fox host said, "Just like we've been saying, please take COVID seriously. I can't say it enough. Enough people have died. We don't need any more death."
Advertisement - story continues below
"It absolutely makes sense for many Americans to get vaccinated. I believe in science. I believe in the science of vaccination," he added.
Truth and Accuracy
We are committed to truth and accuracy in all of our journalism. Read our editorial standards.
Comment Down Below
Conversation