Commentary
Watch: Harris Awkwardly Laughs for 15 Seconds Straight When Asked About Ukrainian Refugees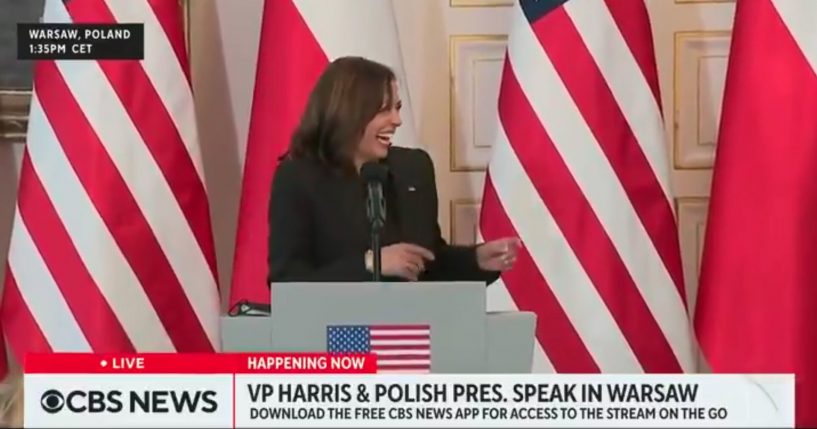 Vice President Kamala Harris continued her trend of awkwardly laughing after being asked a question during a trip to Poland meant to show the United States' commitment to its European allies amid Russia's invasion of Ukraine.
On Thursday, a reporter asked Harris about concerns the refugee system is "essentially not set up" for the flood of refugees and "will collapse."
"It's an improvised system that can work for maybe two weeks but not indefinitely," the reporter added before asking, "And I'm wondering what the United States is going to do more specifically to set up a permanent infrastructure and relatedly, is the United States willing to make a specific allocation for Ukrainian refugees?"
Advertisement - story continues below
The question referred to the humanitarian disaster unfolding in Ukraine as a result of Russia's invasion two weeks ago. It is estimated that in just 12 days, more than 2 million people fled their homes in Ukraine, adding up to the worst refugee crisis since World War II.
The reporter also asked Poland's President Andrzej Duda if he asked the U.S. to accept more refugees.
And that's where things went a little off the rails as Harris looked to Duda apparently to figure out who should answer the question first.
"Okay," Harris said as she started to laugh while looking over to Duda, adding, "A friend in need is a friend indeed."
Advertisement - story continues below
She then burst out laughing for another 10 seconds. Meanwhile, Duda signaled that Harris could tackle the question first.
Watch the moment below:
.@VP Harris awkwardly starts laughing when asked about the Ukrainian refugee crisis pic.twitter.com/SIHhiLbK6X

— Tom Elliott (@tomselliott) March 10, 2022
However, as her laughter persisted, she seemed to indicate that Duda should answer first.
Duda did laugh as well but was able to pull himself together much quicker.
Advertisement - story continues below
Merriam-Webster explains that Harris' idiom is "used to say that a friend who will help someone when help is needed is a true friend."
It is unclear why she used that idiom at that moment. It appears that she may have been trying to formulate an answer and needed time. Or perhaps she was referring to whatever steps the United States would address the refugee system.
According to Politico, Biden "administration officials say "[Harris is] not there to make any deals, whether it be on humanitarian aid or the transfer of military equipment. Instead, her role is to serve as an emissary and an emblem of the administration's commitment to the country and the trans-Atlantic alliance more broadly."
This is, of course, not the first time Harris burst out in laughter when addressing a serious question.
Advertisement - story continues below
Amid the chaotic withdrawal from Afghanistan in August, a reporter tried to ask Harris a question about the situation.
However, she cut them off and laughed.
Watch the video below:
WATCH: Kamala Harris laughs when a reporter starts to ask her about Americans trapped in Afghanistan pic.twitter.com/7863Seq36C

— RNC Research (@RNCResearch) August 22, 2021
Advertisement - story continues below
"Hold on, hold on — slow down, everybody!" she said.
There have also been several montages made of times Harris either laughed or delivered a word salad in response to a question during her time as vice president.
It's fairly incredible that more than a year into her time as vice president, she seems not to have learned that laughing after being asked a serious or challenging question is not a good look.
Truth and Accuracy
We are committed to truth and accuracy in all of our journalism. Read our editorial standards.
Comment Down Below
Conversation