News
Harris' Office Tries to Clean Up Controversy After Not Shutting Down Claim About Israel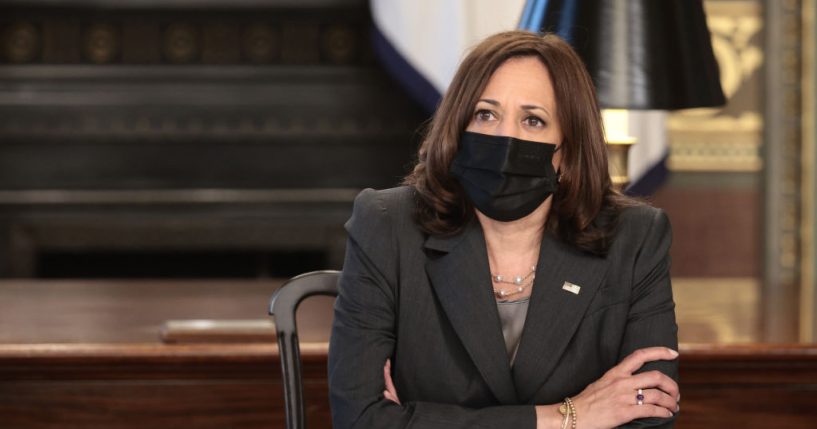 Vice President Kamala Harris' office is seeking to affirm her support for Israel after she did not push back on a claim of "ethnic genocide."
According to Politico, "Harris' senior staff contacted the influential Democratic Majority for Israel to clean up remarks she made Wednesday at George Mason University where Harris was visiting a classroom of students."
Mark Mellman, the president of the group, said, "We were pleased Vice President Harris's senior staff reached out to us today to confirm what we already knew: Her 'commitment to Israel's security is unwavering.'"
Advertisement - story continues below
Additionally, members of her staff also reportedly contacted Rep. Ted Deutch (D-Fla.), a co-chair of the Bipartisan Anti‐Semitism Taskforce.
During a visit to George Mason University earlier this week, a student said, "I see that over the summer there have been, like, protests and demonstrations in astronomical numbers about Palestine."
"Just a few days ago, there were funds allocated to continue backing Israel, which hurts my heart because it's ethnic genocide and a displacement of people, the same that happened in America, and I'm sure you're aware of this," the student continued.
Finally, the student said, "I bring this up also because of the issue of how Americans are struggling because of lack of health care, public health care, lack of affordable housing, and all this money ends up going to inflaming Israel and backing Saudi Arabia and whatnot. And I think that the people have spoken very often in what they do need, and I feel like there's a lack of listening, and I just feel like I need to bring this up because it affects my life and people I really care about's lives."
Advertisement - story continues below
Harris responded by saying she was "glad" the student spoke up.
She said, "This is about the fact that your voice, your perspective, your experience, your truth, should not be suppressed, and it must be heard, right? And one of the things that we're fighting for in a democracy, right?"
"Unity should never be at the expense of telling anyone personally that, for the sake of unity, 'Oh, you be quiet about that thing. You suppress that thing. Let's not deal with that thing.' That's not unity. True unity is everyone in that room has a voice," Harris continued.
Finally, the vice president said, "The point that you are making about policy that relates to Middle East policy, foreign policy, we still have healthy debates in our country about what is the right path, and nobody's voice should be suppressed on that."
A spokesperson for Harris told the Jewish Telegraphic Agency on Friday, "Throughout her career, the Vice President has been unwavering in her commitment to Israel and to Israel's security."
Advertisement - story continues below
"While visiting George Mason University to discuss voting rights, a student voiced a personal opinion during a political science class. The Vice President strongly disagrees with the student's characterization of Israel," the spokesperson added.
Truth and Accuracy
We are committed to truth and accuracy in all of our journalism. Read our editorial standards.
Comment Down Below
Conversation