News
Josh Hawley Claims Dems 'Don't Accept Elections That They Don't Win'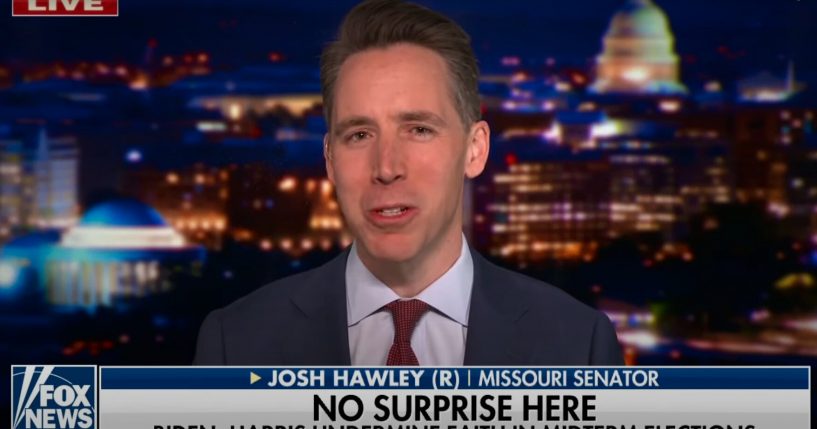 Sen. Josh Hawley (R-Mo.) insists that Democrats only accept elections when their party wins.
During an appearance on Fox News on Thursday night, Hawley addressed President Joe Biden's suggestion that the 2022 midterms may not be legitimate.
"What I heard was what Joe Biden said loud and clear, which is he's already making excuses for why he's going to lose in November," Hawley said.
Advertisement - story continues below
He continued, "That's what this is all about. Democrats don't accept elections that they don't win. I mean, it happened in 2000, it happened in 2004, it happened in 2016. Now it's going to be 2022. If Joe Biden thought that his party was going to win these elections, then all would be fine."
"But he thinks, and because the polls suggest, he's going to lose them. His party's going to lose them — the House and the Senate — and therefore, they're illegitimate. I mean, it's dangerous, it's wrong, it's ridiculous," the Missouri senator insisted.
Watch the video below:
Advertisement - story continues below
Hawley's comments refer to decisions by some Congressional Democrats to object to electoral votes in elections that the Republican presidential nominee won.
In 2000 and 2004, Democrats objected to counting electoral votes in states that former President George W. Bush carried. And in 2016, Democrats objected to electoral votes in states former President Donald Trump won.
His statement comes after Biden said that the midterms "could easily be illegitimate" if Democrats' voting rights legislation was not passed. White House Press Secretary Jen Psaki, however, said that the president believes elections will be legitimate despite Democrats failing to pass the legislation, as IJR reported.
While Hawley criticized Democrats for objecting to electoral votes and questioning the outcomes of past elections, he left out his own decision to object to certifying Biden's 2020 election victory as he raised concerns about allegations of widespread fraud.
Despite Trump's claims that widespread fraud tilted the results in Biden's favor, dozens of state and federal judges rejected challenges to the election results.
Truth and Accuracy
We are committed to truth and accuracy in all of our journalism. Read our editorial standards.
Comment Down Below
Conversation