News
Hawley Creates Plan to Target Consultants Who Work for China and the US Government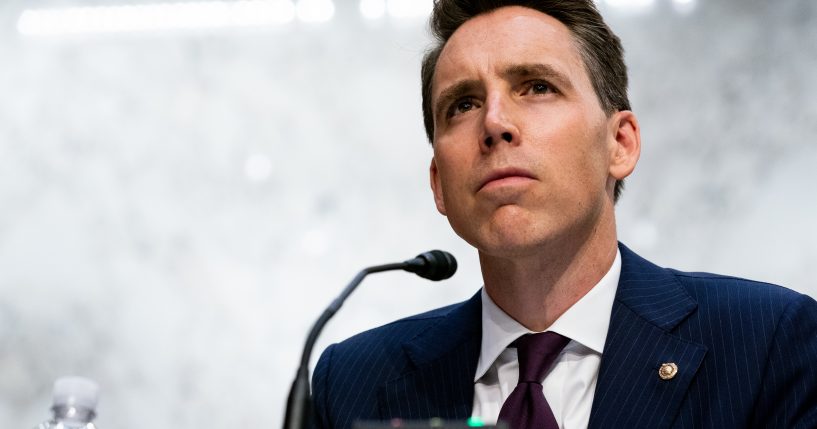 Sen. Josh Hawley (R-Mo) introduced legislation that would prohibit certain federal agencies from contracting with consulting firms that also provide services to the Chinese government. 
Hawley released a statement Monday about the bill, called the Time to Choose Act, saying it specifically blocks the Department of Defense (DOD) from contracting with firms such as McKinsey & Company, who provide services to the Chinese government and affiliates. 
These federal contractors would be given the option of losing their contracts with the United States if they did not support the country's efforts to defend Americans from China's national ambitions. 
Advertisement - story continues below
The Time to Choose Act prohibits agencies from the firms that are working for the Chinese Communist Party, subsidiaries, affiliates or proxies, according to Hawley's statement on the bill. 
The legislation also puts in place penalties for firms that intentionally hide or misrepresent contracts with China or its affiliates. 
Those punishments include the termination of federal contracts, as well as the prevention of the firms' ability to work with the United States government in the future.
Groups in violation of the proposed bill would also be required to pay restitution for damages equivalent to three times any amount spent by the government in support of the contract. 
Advertisement - story continues below
Hawley's introduction of the bill cited a report by NBC News which alleges the consulting firm McKinsey & Co. works for Chinese state companies and the Pentagon. 
NBC reported some lawmakers and critics note the "potential risk to national security that federal agencies can no longer ignore." 
"McKinsey's consulting contracts with the federal government give it an insider's view of U.S. military planning, intelligence and high-tech weapons programs," NBC stated in their report. 
The consulting group also reportedly advises Chinese state-run groups that offer support for Beijing's naval buildup in the Pacific. 
McKinskey told NBC News that it follows U.S. and international laws for its contracts, saying their precautions prevent conflicts of interest. 
Advertisement - story continues below
"We follow strict protocols, including staffing restrictions and internal firewalls, to avoid conflicts of interest and to protect client confidential information in all of our work. When serving the public sector, we go further: in addition to managing potential staffing conflicts, we are subject to our Government clients' organizational conflict of interest requirements and comply with these obligations accordingly," company spokesperson Neil Grace told NBC.
Hawley had a different take: "The fact that these consultants are awarded huge contracts by our Defense Department and other federal agencies, while they are simultaneously working to advance China's efforts to coerce the United States is appalling and completely unacceptable," the senator said according to his website. 
The Missouri Republican went on to assert, "It is well past time that we hold these companies accountable and prohibit this kind of conflict of interest in government contracting." 
Truth and Accuracy
We are committed to truth and accuracy in all of our journalism. Read our editorial standards.
Comment Down Below
Conversation