The Very First Film From the Obamas Production Company Wins an Oscar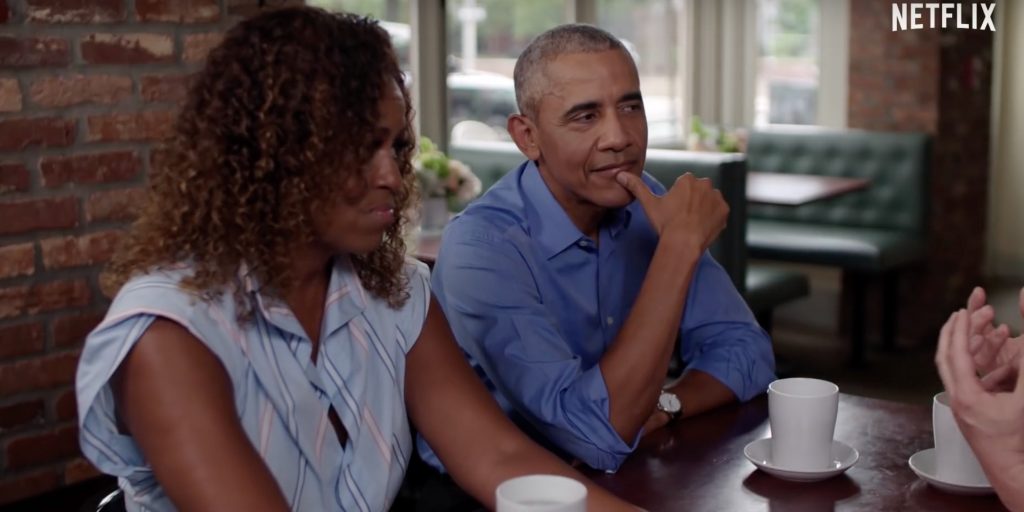 Less than a month after former First Lady Michelle Obama won a Grammy for the audiobook of her best-selling memoir "Becoming," the Obamas production company won an Oscar for the best documentary feature.
The film, "American Factory," was the very first film produced by the Obamas company — Higher Ground Productions. American Factory traces the livelihoods of workers at a General Motors plant in Ohio who lose their jobs in the plant but then get work at the same plant after it's re-opened by a Chinese company.
In a Sunday night tweet, Barack Obama congratulated the filmmakers behind the documentary, calling American Factory a "complex, moving story about the very human consequences of wrenching, economic change."
Congrats to Julia and Steven, the filmmakers behind American Factory, for telling such a complex, moving story about the very human consequences of wrenching economic change. Glad to see two talented and downright good people take home the Oscar for Higher Ground's first release. https://t.co/W4AZ68iWoY

— Barack Obama (@BarackObama) February 10, 2020
The Obamas launched Higher Ground productions in 2018 and soon partnered with Netflix. That deal angered President Donald Trump, who complained that the House Judiciary Committee should "look at the Obama book deal, or the ridiculous Netflix deal."
Over the summer, the Obamas sat down with the directors of American Factory in a Washington, D.C., cafe near their house to explain what they're hoping for with their new company.
In the clip, Michelle Obama says that they chose American Factory because "you let people tell their own story."
Later in the clip, the former first lady adds, "One of the many things that I love about this project is that it's not an editorial. I mean, you truly let people speak for themselves."
Unsurprisingly, politics were on the stage at the Oscars.
The most vocal celebrity was Brad Pitt who told the crowd in his acceptance speech, "They told me that I only had 45 seconds up here, which is 45 seconds more than the Senate gave John Bolton this week. I'm thinking maybe Quentin [Tarantino] does a movie about it, and in the end the adults do the right thing."