News
Sunny Hostin Highlights Newsom as a Potential Presidential Candidate Because He's 'Pretty to Look At'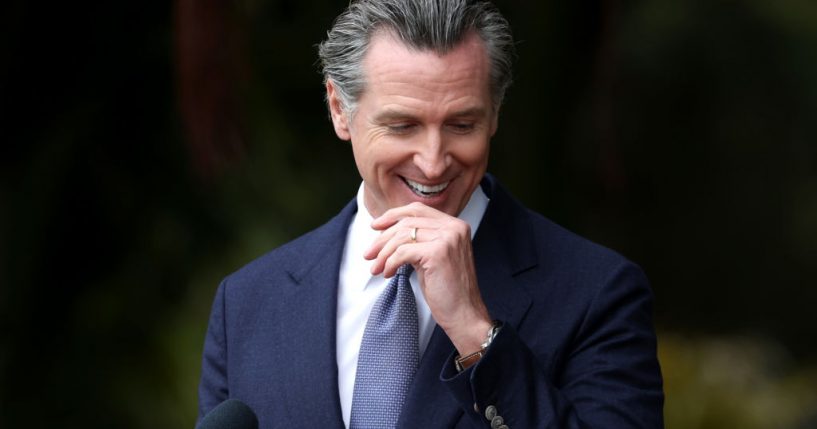 "The View" co-host Sunny Hostin is suggesting that California Gov. Gavin Newsom (D) could potentially be a presidential candidate, in part because of his looks.
Co-host Whoopi Goldberg kicked off a segment on Tuesday about reports that Democrats are getting concerned about President Joe Biden ahead of 2024.
Former Trump official Alyssa Farah Griffin argued that inflation and gas prices could create "a window for Donald Trump to come back," and stated that she is not sure Biden is best positioned to defeat the former president in 2024.
Advertisement - story continues below
Hostin chimed in to say she hopes "Deathsantis" is not the Republican nominee — referring to Florida Gov. Ron DeSantis (R).
"I think he handled Covid miserably. I think he's a fascist and a bigot," she added.
Hostin also said she does not like people suggesting that Biden is too old.
"I do think there are plenty of Democrats that have tons of verve and energy," she continued. "I like Gavin Newsom because he's really pretty to look at, and I think he does a great job in California."
Advertisement - story continues below
She also suggested that there could be a potential ticket featuring Vice President Kamala Harris and Transportation Secretary Pete Buttigieg.
"I would vote for them. I hope this country is ready for something like that. I think the brain power alone would just obliterate Trump or Deathsantis," she added.
Do you think Newsom would be a good candidate?
Watch the video below:
BIDEN'S AGE A CONCERN FOR DEMOCRATS? As rumors of former Pres. Trump's plans to run again continue and his Vice Pres. Pence dodges questions about running in 2024, #TheView panel discusses if age will come to question in the next presidential election. https://t.co/cVclFZQmjA pic.twitter.com/zPrG8CsOHz

— The View (@TheView) June 14, 2022
Griffin argued, "We deserve better options than two octogenarians, who… one tried to overthrow the government."
Advertisement - story continues below
But Goldberg accused her of being "ageist."
Meanwhile, Joy Behar chimed in and urged Obama-era adviser David Axelrod to "keep his mouth shut" after he told The New York Times that Biden's age could be a "major issue."
"Ronald Reagan's rule was 'Thou shalt not speak ill of a fellow Republican.' And I say unto you, David Axelrod, do not speak ill of a fellow Democrat," she added.
The New York Times reports, "Many Democratic lawmakers and party officials are venting their frustrations with President Biden's struggle to advance the bulk of his agenda, doubting his ability to rescue the party from a predicted midterm trouncing and increasingly viewing him as an anchor that should be cut loose in 2024."
Advertisement - story continues below
"Democrats in union meetings, the back rooms of Capitol Hill, and party gatherings from coast to coast are quietly worrying about Mr. Biden's leadership, his age, and his capability to take the fight to former President Donald J. Trump a second time," it added.
Truth and Accuracy
We are committed to truth and accuracy in all of our journalism. Read our editorial standards.
Comment Down Below
Conversation