News
House Progressive Caucus Chair Threatens to Kill Bipartisan Infrastructure Package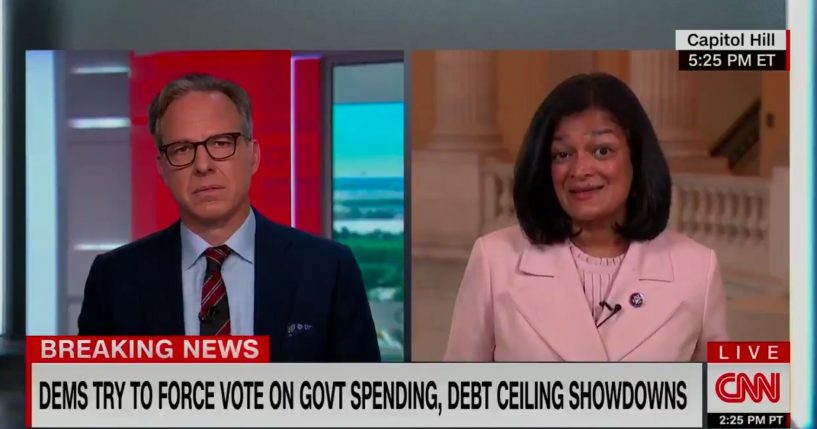 A key progressive House Democrat is warning that the bipartisan infrastructure package may fail to pass the chamber unless it is accompanied by a larger spending bill.
During Tuesday's appearance on CNN, Rep. Pramila Jayapal (D-Wash.), the chair of the House Progressive Caucus, signaled that members of her caucus are ready to sink the smaller bipartisan bill unless they also vote on the $3.5 trillion spending package at the same time.
"There are 96 members and over half are absolutely committed to making sure we deliver both bills at the same time," she said.
Advertisement - story continues below
Host Jake Tapper asked, "So, 48 Democrats will vote against the House infrastructure bill if it does not come with the budget reconciliation package, is that right?"
Jayapal responded, "More than half of our members will vote for both bills. And this was the deal, Jake, that came out of the Senate. When progressive senators passed the bipartisan bill in the Senate, it was on the specific understanding and commitment that both bills would move together.
"And so now, we want to make sure that both bills are moving together, and we're going to hold to that commitment. And so yes, half our members, more than half our members, will not move the bipartisan bill without the reconciliation bill being passed," she added.
Watch the video below:
Advertisement - story continues below
House Progressive Caucus Chair @RepJayapal promises that "more than half" of her members will vote down the bipartisan infrastructure agreement on September 27th if it's not accompanied by the $3.5 trillion reconciliation bill. pic.twitter.com/0pKaKMKE3q

— The Recount (@therecount) September 21, 2021
The House is expected to vote on a roughly $1 trillion bipartisan infrastructure package, but with a slim margin in the House, Democrats have little room for defections. Losing 48 Democrats would sink the bill unless Republicans voted for it.
However, Politico notes that it is expected that fewer than a dozen House Republicans will vote for it.
Shortly after President Joe Biden announced that he had reached a deal on the bipartisan infrastructure package, Congressional Democrats said they wanted to pass that bill as well as a larger $3.5 trillion spending package, and progressives have linked the fate of the two bills.
Rep. Alexandria Ocasio-Cortez (D-N.Y.) vowed in July that progressives would "tank" the bipartisan bill if lawmakers tried to strip key provisions from it, as IJR reported.
Advertisement - story continues below
However, even if the House passes both bills, the fate of the larger spending package is uncertain in the Senate.
Democrats are hoping to use a process known as budget reconciliation, which is immune from a filibuster, to pass the spending package with just 51 votes, with Vice President Kamala Harris casting the tie-breaking vote.
In order for that process to work, all 50 Democrats would have to vote for the spending bill. However, Sen. Joe Manchin (D-W.Va.) has said he will not vote for a bill with a $3.5 trillion price tag.
Truth and Accuracy
We are committed to truth and accuracy in all of our journalism. Read our editorial standards.
Comment Down Below
Conversation