Commentary
Laura Ingraham Says Americans May Believe It Is 'Time to Turn the Page' on Trump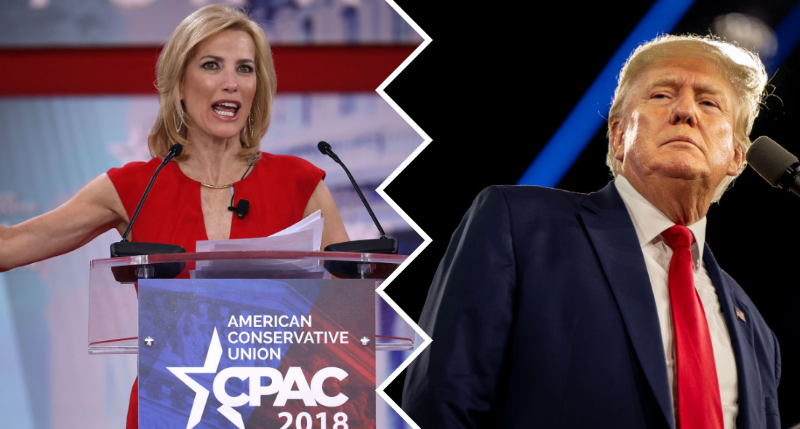 The FBI's raid of former President Donald Trump's Mar-a-Lago estate appears to be leading Republicans to rally around him, leading some commentators to speculate that it may help revive his political standing.
But Fox News' Laura Ingraham, who has been supportive of the former president, thinks that Americans might be ready to move on from him.
"People conflate Trump with people's overall sense of happiness in the country. Donald Trump's been a friend of mine for 25 years, and I'm always very open about this on my show. But, you know we'll see whether that's what the country wants," Ingraham said during an episode of "The Truth with Lisa Booth" podcast.
Advertisement - story continues below
She went on, "The country, I think, is so exhausted. They're exhausted by the battle, the constant battle, that they may believe that, well, maybe it's time to turn the page if we can get someone who has all Trump's policies, who's not Trump."
Listen to her comments below:
She might have a point.
Advertisement - story continues below
Polls have shown that Republican voters say they would pick Trump to be their nominee in 2024, but saying it is one thing. When voters see the reality of him possibly running again, it might not be that appealing.
Sure, in 2016, Trump was branded as a misogynist, racist, and bigot, who might sell the country out to Russia.
Do you think Americans are ready to move on from Trump?
But this time is a little different.
Rather than facing one investigation into allegations that members of his 2016 campaign colluded with Russia to swing the election, Trump is apparently facing multiple investigations.
The most explosive one currently involves the FBI's raid last week, which is still unclear what direction that investigation is going. There's New York State Attorney General Letitia James' civil probe of the Trump Organization. There is also an investigation in Georgia into Trump and his allies over their efforts to overturn the results of the 2020 election.
Advertisement - story continues below
Then there is a federal grand jury looking into the events surrounding Jan. 6, which former Vice President Mike Pence's chief of staff Marc Short testified before last month.
All of those investigations will likely lead to headlines about subpoenas, who's cooperating and who's not, which confident might be ready to flip on Trump, and whether or not Trump will potentially be facing jail time. All the while, Trump will likely be sending angry "Truths" on his Truth Social about the "witch hunts."
If people thought the Russia probe and all the leaks and noise and wild speculation from that were crazy and exhausting, just ramp that up a couple of levels.
Aside from the investigations, there is just Trump's chaotic, bombastic, nature that people seem to be tired of.
Advertisement - story continues below
And at the end of the day, for all the battles that would be fought and for all the bluster — absent a change to the Constitution — Trump would only get another four years in the White House which could increase the chances that in 2028 there would be another Democratic president instead of potentially having two terms with a Republican.
Truth and Accuracy
We are committed to truth and accuracy in all of our journalism. Read our editorial standards.
Comment Down Below
Conversation