News
Jan. 6 Committee Does Not Rule Out Subpoenaing Trump: 'Nobody Is Off Limits'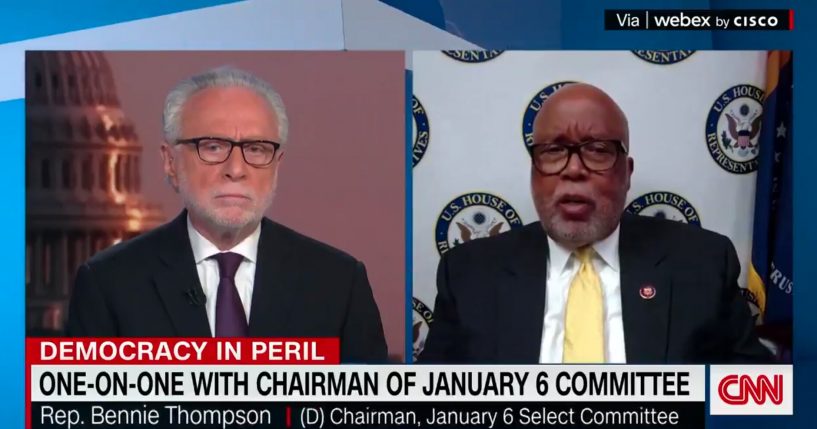 The chairman of the House select committee investigating the Jan. 6 riot at the U.S. Capitol is not ruling out issuing a subpoena to former President Donald Trump.
During an appearance on CNN's "The Situation Room" on Thursday, host Wolf Blitzer asked Rep. Bennie Thompson (D-Miss.), the chair of the committee, "What are the chances you'll subpoena Trump?"
Thompson began by saying he appreciates the White House's decision to decline Trump's attempt to block documents requested by Congress. He added, "A lot of what we decide on former President Trump is dependent on what we find in this information."
Advertisement - story continues below
Blitzer asked, "Are you ruling out or ruling in the possibility of eventually subpoenaing Trump?"
"I would say this at this point, Wolf, nobody is off limits to a subpoena from this committee," Thompson responded.
The host added, "I assume that means the former president as well."
Watch the video below:
Advertisement - story continues below
"Nobody is off limits," says Democratic Rep. Bennie Thompson when asked if the Jan. 6 committee will subpoena former Pres. Trump. pic.twitter.com/3JL66egDS6

— The Situation Room (@CNNSitRoom) October 14, 2021
Thompson's comments come a day after the committee announced it would pursue a criminal contempt charge against former Trump White House strategist Steve Bannon for defying a subpoena, as IJR reported.
Do you think the committee should subpoena Trump?
"Mr. Bannon has declined to cooperate with the Select Committee and is instead hiding behind the former President's insufficient, blanket, and vague statements regarding privileges he has purported to invoke. We reject his position entirely," Thompson said in a statement.
He added, "The Select Committee will not tolerate defiance of our subpoenas, so we must move forward with proceedings to refer Mr. Bannon for criminal contempt. I've notified the Select Committee that we will convene for a business meeting Tuesday evening to vote on adopting a contempt report."
As The Hill notes, "A referral would put the ball in DOJ's court, requiring the executive branch to determine how aggressive it wants to be in pursuing Bannon."
Advertisement - story continues below
Trump has reportedly urged four allies not to comply with a subpoena from the committee, claiming material requested by the panel would be covered by executive privilege.
If the former president's allies defy a subpoena and are convicted of criminal contempt, they could face a year in prison and up to a $100,000 fine.
Truth and Accuracy
We are committed to truth and accuracy in all of our journalism. Read our editorial standards.
Conversation