News
Jay Leno Reveals 'Brand New Face' After 'Pretty Bad' Gasoline Fire Accident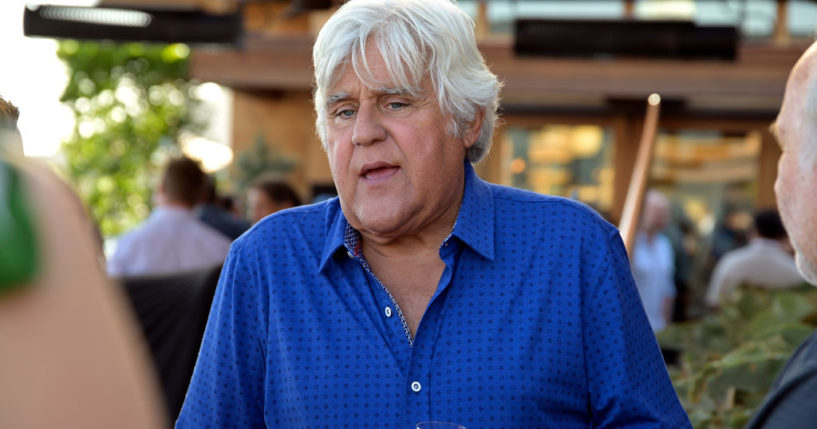 Talk show host Jay Leno revealed his new face after suffering extensive burns from a gasoline fire.
On Wednesday, Leno appeared on "The Kelly Clarkson Show" to show off his "brand new face."
He told Clarkson how the terrifying incident occurred.
Advertisement - story continues below
"I was working on a car and I got a face full of gasoline and it caught fire," he shared.
He proceeded to joke that he was eating "a Flamin' Hot Dorito" at the time, which set fire to his face when he "bit into it."
Leno said he suffered third-degree burns and it was "pretty bad."
Advertisement - story continues below
On Nov. 12, Leno was working on his cars when a spark ignited from the gas causing burns "all over his face and upper body," according to People.
"It felt exactly like my face was on fire. Maybe like the most intense sunburn you've ever had, that'd be fair to say," Leno recalled.
Leno's longtime friend, Dave Killackey, saved his life by pulling him out of the blaze.
"I'm not a panicky guy, but I knew if I breathed in I could scorch my lungs," he stated. "I was under the car maybe 10 seconds before Dave pulled me out. Any longer than that I could have lost my eye."
Leno added that "when you work with cars, you have a lot of accidents" but this particular one was "bigger than most."
Advertisement - story continues below
He was then taken to Grossman Burn Center at West Hills Hospital where he spent the next nine days recovering. He had to undergo two skin graft surgeries.
"I know how bad it could have been, but I am OK," he said.
However, he made it clear that this wouldn't stop him from taking risks in the future.
"I'm sure I'll continue to do the same stupid things I've always done. Just maybe a little bit more carefully," he continued.
Truth and Accuracy
We are committed to truth and accuracy in all of our journalism. Read our editorial standards.
Comment Down Below
Conversation