News
Jennifer Lopez Expresses Disapproval of Her 2020 Superbowl Halftime Show: 'Worst Idea'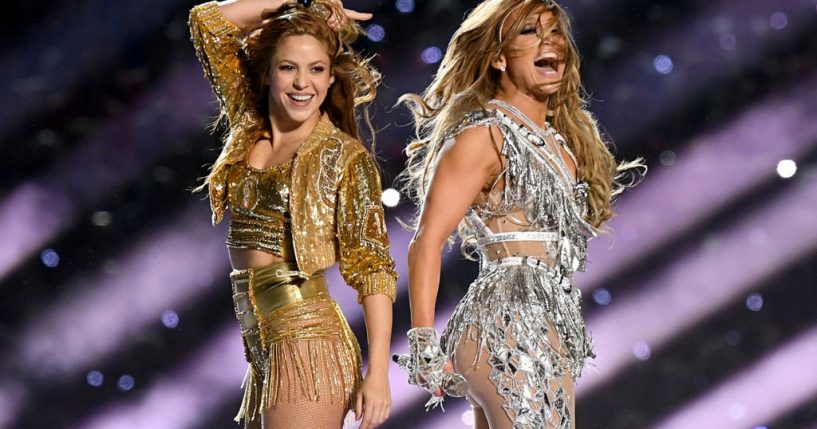 Singer Jennifer Lopez is opening up about the 2020 halftime show she performed with Shakira at the Superbowl.
The halftime show brought in 221 million views according to Bustle. However, in her upcoming documentary titled "Halftime," Lopez said, "It was the worst idea in the world" to have two people performing during the Superbowl halftime show, according to Entertainment Weekly.
Lopez told her longtime manager Benny Medina:
Advertisement - story continues below
"We have six f—ing minutes. We have 30 seconds of a song, and if we take a minute, that's it, we've got five left. But, there's got to be certain songs that we sing, though. We have to have our singing moments. It's not going to be a dance f—ing revue. We have to sing our message. This is the worst idea in the world to have two people do the Super Bowl. It was the worst idea in the world."
Medina also expressed his disapproval over the NFL's decision saying, "Typically, you have one headliner at a Super Bowl. That headliner constructs a show, and, should they choose to have other guests, that's their choice. It was an insult to say you needed two Latinas to do the job that one artist historically has done."
Lopez and Shakira also didn't hold back on how they felt about how much time they had to perform that night.
"I know that the Super Bowl people want us to be weaved throughout the show. I haven't had a confirmation about how many minutes I'm going to have," Shakira told Lopez.
Advertisement - story continues below
Lopez responded: "Let me address that really quick. They said 12 minutes. I got kind of a good confirmation that we could have an extra minute or two, so now we're at, like, 13, 14 minutes. I think, Shakira, what we should have is you should have half the time and I should [have half]. If it was going to be a double-headliner, they should have given us 20 minutes."
The halftime show was 14 minutes long which gave both Lopez and Shakira seven minutes each to perform their part, per Insider.
On Sunday, Lopez was honored with a Generation Award at the 2022 MTV Movie & TV Awards. In her speech, she expressed her gratitude for her coworkers saying, "You're only as good as the people you work with and if you're lucky, they make you better."
Truth and Accuracy
We are committed to truth and accuracy in all of our journalism. Read our editorial standards.
Comment Down Below
Conversation