Joe Biden Denies Tara Reade's Sexual Assualt Allegation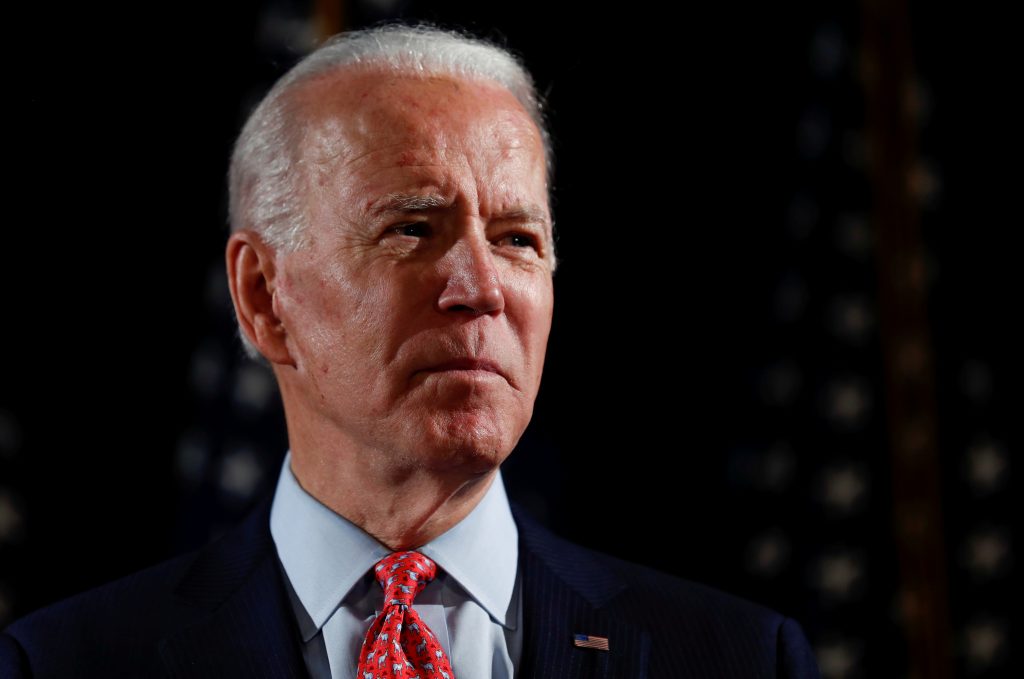 Though his campaign has publicly denied a sexual assault allegation made against him, former Vice President Joe Biden has not addressed it directly until now.
The presumptive Democratic presidential nominee broke his silence himself on the sexual assault allegation Tara Reade, a former staffer while he was a senator, made against him.
Starting out his statement on Friday, Biden addressed the belief "that women should be heard" being the "underpinning of a law [Violence Against Women Act] I wrote over 25 years ago."
"To me, freedom from fear, harm, and violence for women was a legal right, a civil right, and a human right," he said. "And I knew we had to change not only the law, but the culture."
"I recognize my responsibility to be a voice, an advocate, and a leader for the change in culture that has begun but is nowhere near finished. So I want to address allegations by a former staffer that I engaged in misconduct 27 years ago.

They aren't true. This never happened."
While he says the sexual harassment and sexual assault allegations are "complicated," he adds "two things are not complicated," including allowing a woman to speak up when she comes forward with an allegation and "their stories should be subject to appropriate inquiry and scrutiny."
Biden continued to say that there are "inconsistencies" in Reade's story.
"She has said she raised some of these issues with her supervisor and senior staffers from my office at the time. They – both men and a woman – have said, unequivocally, that she never came to them and complained or raised issues," Biden writes. "There is a clear, critical part of this story that can be verified. The former staffer has said she filed a complaint back in 1993. But she does not have a record of this alleged complaint."
He went on to say that the personnel files are not kept at the University of Delaware but are rather at the National Archives. He then asked the secretary of the Senate to identify if there is any record of the complaint.
"If there was ever any such complaint, the record will be there," he wrote.
"As a Presidential candidate, I'm accountable to the American people. […] People need to hear the truth."
"I started my work over 25 years ago with the passage of the Violence Against Women Act," he concluded. "As president, I'm committed to finishing the job."
Reade is alleging that Biden sexually assaulted her in 1993. In April of 2019, she joined other women in accusing Biden of inappropriate touching, but in March of 2020, she publicly came out with her alleged story of what she says happened. In mid-April, several outlets published investigations into the allegation, and on April 27 Business Insider published two sources who corroborated Reade's claim.
Joe Biden, asked on @Morning_Joe if he sexually assaulted Tara Reade:

"No, it is not true. I'm saying unequivocally it never, never happened. And it didn't. It never happened." pic.twitter.com/nXIAdGloG5

— MSNBC (@MSNBC) May 1, 2020
After there was initial silence from some about the allegation and endorsements from several Democrats, multiple Democrats broke their silence this week.
Among those included House Speaker Nancy Pelosi (D-Calif.), who defended Biden, as well as former Georgia gubernatorial candidate Stacey Abrams and Sen. Kirsten Gillibrand (D-N.Y.).
While some defended Biden, Sen. Tammy Duckworth (D-Ill.) — who is reportedly one of the women being considered as Biden's running mate — said in a podcast on Thursday, "Any woman who brings, or any man for that matter, who brings forward allegations of abuse, especially in the workplace, deserve to be listened to, and I certainly think that we need to thoroughly look at these allegations."
"I think that the Biden campaign should address this issue, and they have been," Duckworth added.