Commentary
Joe Scarborough Melts Down Over Trump's Town Hall, Compares It to Jan. 6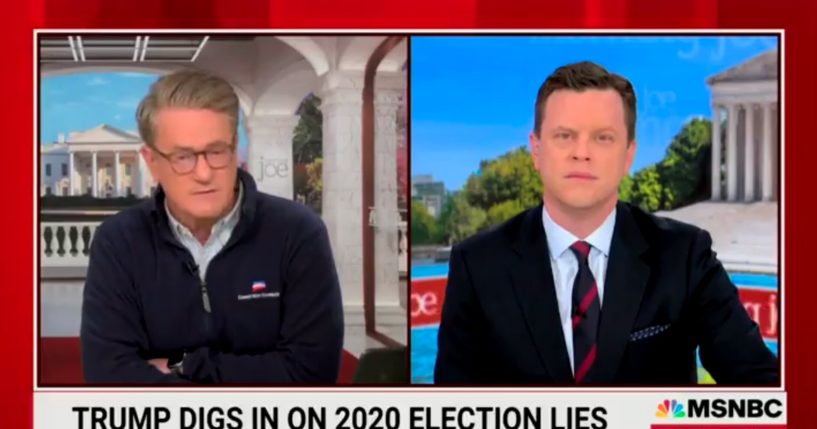 As is typical when former President Donald Trump is not beaten down, kicked, and utterly embarrassed on TV, the Left is losing their minds.
It is not exactly clear what liberals expected to happen. Trump is not one to slink away into a corner when he's confronted on national TV. Instead, he tends to just verbally steamroll over whoever is confronting him.
And that is what happened during CNN's town hall event on Wednesday, which has sparked the fury of the Left.
Advertisement - story continues below
MSNBC's Joe Scarborough said, "It was just… it was a disgraceful performance. I'm constantly telling people not to catastrophize over Trump because he's going to lose… I can't believe I'm going to use catastrophizing language here, but it was disgraceful on every level."
"The most shocking part was an audience [that] cheered on a president who tried to overturn American democracy. An audience mocked and ridiculed a woman who a jury of Donald Trump's peers found had been sexually assaulted. Those Americans there last night turned that into a punchline," he continued.
Finally, Scarborough said, "What I saw last night was as chilling as anything I've seen on television since Jan. 6th."
Watch the video below:
Advertisement - story continues below
.@JoeNBC on Trump's CNN townhall: "What I saw last night was as chilling as anything I've seen on television since Jan. 6th." pic.twitter.com/dG67iGd9dV

— Tom Elliott (@tomselliott) May 11, 2023
Yes, Trump's decision to poke fun at the women who accused him of rape and defamation — after a jury found he was liable for sexual abuse and defamation — was gross.
Did you find it as chilling as Jan. 6?
Trump labeling the police officer who shot Ashli Babbitt on Jan. 6 a "thug," insisting former Vice President Mike Pence "did something wrong" in his decision not to try to send the 2020 election back to the states and did not deserve an apology, repeating his unfounded claims about the 2020 election, and calling Kaitlan Collins a "nasty person," were all atrocious statements undeserving of applause and laughter.
But was it "as chilling" as anything we've seen on TV since Jan. 6?
It seems people falling to their deaths after clinging to airplanes taking off from Kabul, Afghanistan, as the Taliban took over the capital might be a little more chilling.
Advertisement - story continues below
The horrific images coming out of Russia's brutal and unprovoked invasion of Ukraine also seem a little more chilling than what we saw last night.
But this is what those who disdain Trump do.
They flatten tragedies so they can make the former president out to be the worst thing that ever happened to the country or the world.
In just one example, Vice President Kamala Harris compared Jan. 6 to Pearl Harbor and the 9/11 terrorist attacks.
Advertisement - story continues below
It is possible to speak about Trump and his behavior without catastrophizing it and cheapening other actual tragedies around the world. But then he does not seem as evil.
Truth and Accuracy
We are committed to truth and accuracy in all of our journalism. Read our editorial standards.
Comment Down Below
Conversation