News
Ron Johnson Asks 'What's the Point' of Getting Vaccinated Against COVID As Cases Surge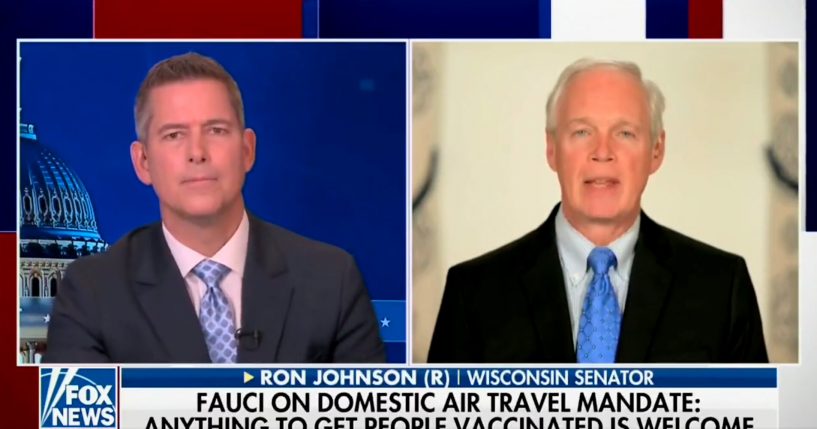 Sen. Ron Johnson (R-Wisc.) is questioning what the "point" of getting vaccinated against COVID-19 is since it is possible to contract the virus after getting inoculated.
During an appearance on Fox News on Monday night, Johnson questioned the effectiveness of the vaccines.
"We all hoped and prayed that the vaccines would be 100% effective and 100% safe, but they're not! We know that fully vaccinated individuals can catch Covid, they can transmit Covid," he said, adding, "So what's the point?"
Advertisement - story continues below
He continued to claim that Dr. Anthony Fauci has not been honest or transparent and added, "I think he's done a miserable in terms of responding to Covid."
Watch the video below:
Johnson has been repeatedly questioning the safety and effectiveness of vaccines. In November, he held an event with individuals who claimed they were harmed by the vaccines, and in June he held a similar event.
Advertisement - story continues below
After more than 10 months of vaccines being administered, the data has shown that the vaccines are highly effective at preventing serious illness or death. Additionally, the risk of serious side effects from the vaccines is small.
However, the Centers for Disease Control and Prevention (CDC) points out that fully vaccinated individuals transmit the virus at a lower rate than unvaccinated individuals.
While it is possible for vaccinated individuals to contract the virus, the data has also shown that they are likely to experience a mild illness.
The Wisconsin senator's comments come as the country is recording an average of 243,099 new cases per day, a 105% increase from the previous 14 days. The virus has killed at least 816,707 people in the U.S.
Former President Donald Trump pushed back on The Daily Wire's Candance Owens when she appeared to question the effectiveness of the vaccines as she noted that more people have died from the coronavirus in 2021 compared to 2020.
Advertisement - story continues below
"Well, no, the vaccines work, but people aren't taking it. The ones who get very sick and go to the hospital are the ones who don't take the vaccine. But it's still their choice, and if you take the vaccine, you're protected," he said, adding, "Look, the results of the vaccine are very good. And if you do get it, it's a very minor form. People aren't dying when they take the vaccine."
Truth and Accuracy
We are committed to truth and accuracy in all of our journalism. Read our editorial standards.
Comment Down Below
Conversation