News
Singer Jon Batiste Talks About Marrying Suleika Jaouad at Home After Her Second Leukemia Diagnosis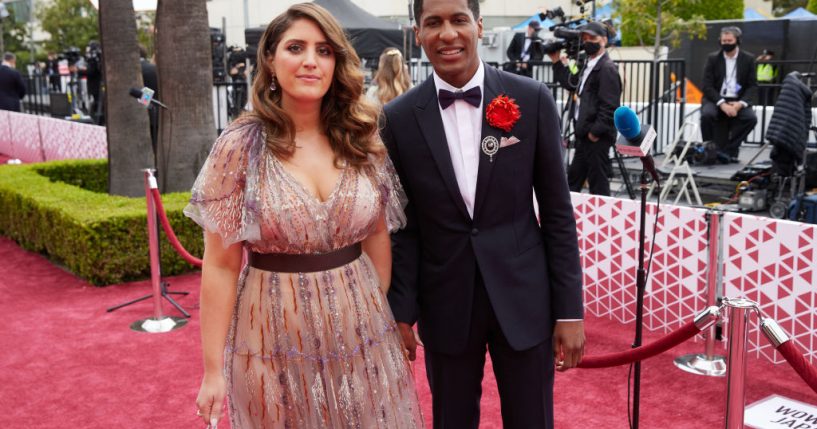 Grammy award winner Jon Batiste is opening up about why he married his wife at home during her second battle with leukemia.
In February, Batiste and his then-girlfriend of eight years, Suleika Jaouad, secretly married at home, the night before her bone marrow transplant, according to People.
"The house has been kind of a temple. It really has been a place where we go and it replenishes our soul. We built something very, very special. It's the combination of both of us. It's the perfect blend of all of our experiences together, and all of our ancestral experiences coming together. And it's amazing that we have that in the midst of this time," Batiste told People.
Advertisement - story continues below
John 1:5 tells us, "The light shines in the darkness, and the darkness has not overcome it."
"It's an act of defiance. The darkness will try to overtake you, but just turn on the light. Focus on the light. Hold onto the light," Batiste previously told CBS News of his decision to get married at that time.
During the spontaneous ceremony, instead of using formal rings, the couple used bread ties and obtained a marriage license "at the very last minute" while Jaouad was in surgery to get a catheter placed in her chest, according to CBS News.
Jaouad told CBS News that their wedding was not anything like what they had imagined.
Advertisement - story continues below
"There were maybe four people present. It was private. It was tiny. And it was perfect," she said.
Despite Jaouad's battle, she said that when they walked into the bone marrow unit they were "on cloud nine."
"We were so happy, so brimming with love and positivity from this beautiful evening that we'd had. And I really believe that that carried us through. That sense of community, that sense of love, that sense of joy and spontaneity were so important," she said.
Batiste recently shared an update on his wife's health to People and said she's "doing better."
Advertisement - story continues below
"Every single day we are praying and continuing the — I mean, she is incredible. You wouldn't think that she is going through what she's going through when you see her. She has this ability to take the toughest challenges and make it life-affirming. So, with her it's a special case. How she's doing, it's a Suleika thing," he said.
Truth and Accuracy
We are committed to truth and accuracy in all of our journalism. Read our editorial standards.
Comment Down Below
Conversation