Judge Judy Calls Bernie Sanders' 'Revolution' a 'Joke'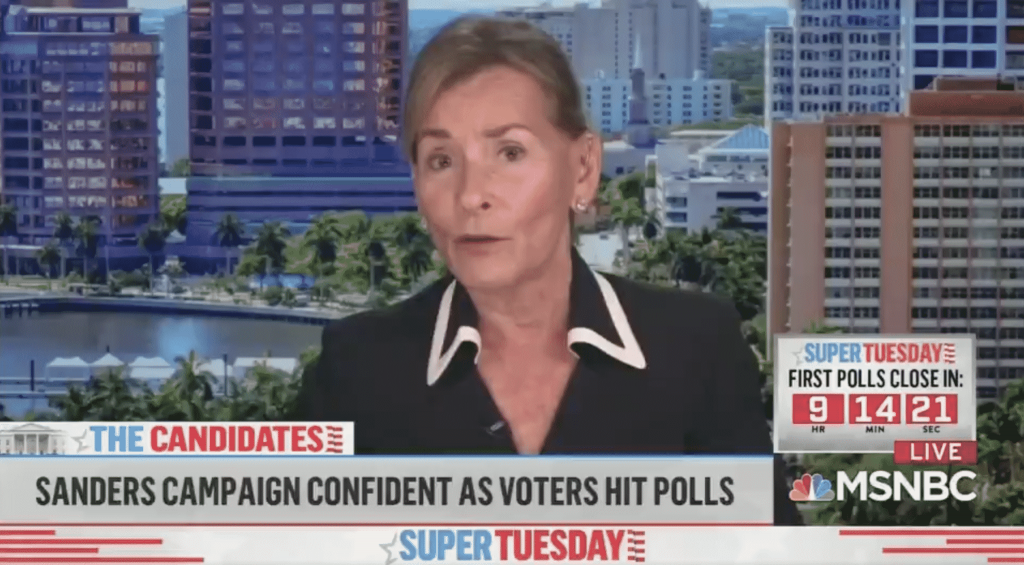 Judy Sheindlin, who is known for her role on television as "Judge Judy" slammed Sen. Bernie Sanders' (I-Vt.) political movement during an interview on MSNBC.
Sheindlin said, "Nobody wants to leave this country, it may need tweaking. America is the land of opportunity, it's a place where you can have big dreams, where you can be the hero of your own story. Where you can look to realize that American dream."
Moments later, she added, "Senator Sanders' revolution is not what this country needs. It's a revolution that, A, is a joke, because it is fiscally impossible, and, B, wherever it has been tried on a large scale it's failed."
She continued:
"Young people might get excited about the word 'revolution', young people always want a revolution. Then they grow up. So it's really a joke to think that you can fool the American public when you've been in Congress for as many years as Bernie Sanders has been in Congress, who I think had either three or four bills passed in the 30 years that he's been in Congress and two of them were to name post offices."
Here's that clip:
Judge Judy labels Bernie's socialist revolution "a joke," MSNBC's @SRuhle feebly attempts to defend him pic.twitter.com/kIRwv6dflu

— Kyle Drennen (@kjdrennen) March 3, 2020
Later, Sheindlin also criticized former Vice President Joe Biden, saying, "We don't need a sentimental vote in America. You want to be sentimental, turn on Sinatra," as Mediaite reported.
Instead, the television judge is hoping to see former New York City Mayor Michael Bloomberg as the Democratic nominee.
In a lengthy remark, Sheindlin criticized Biden again and suggested that he hasn't been properly vetted before saying, "I mean, we know what we know about Mike Bloomberg. He created a company from nothing and became a very rich man. He was the mayor of New York City and The New York Times said he will go down in history as one of the greatest mayors of New York."