News
Kanye West Reveals Whether He Would Pursue a Potential Run for Office Someday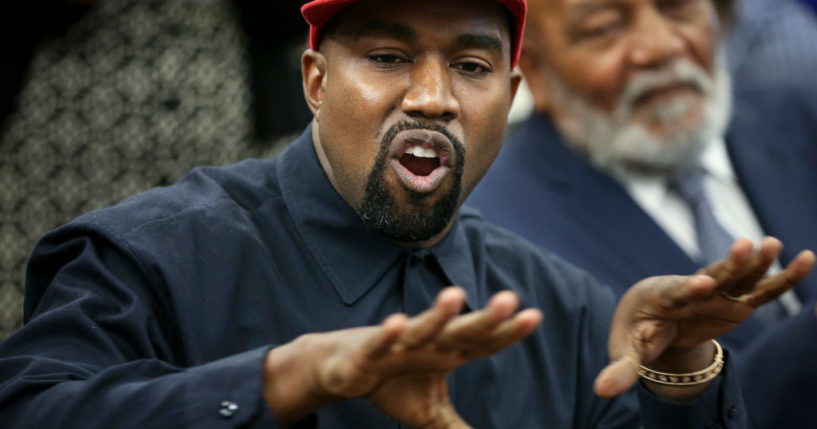 Rapper Kanye West spoke about his future political aspirations and his plan to run for office once again during a recent interview on "Good Morning America."
The rapper made headlines when he ran for president in 2020 and said he isn't done with politics yet in an interview that ranged from talking about his personal life, to business plans and eventually the political.
The rapper said, "Yes. Absolutely," when asked if he was planning to potentially run for office in the future.
Advertisement - story continues below
.@kanyewest tells @linseydavis he still has future political aspirations. https://t.co/pJ0AQzgKkj pic.twitter.com/TZHE3Q40om

— Good Morning America (@GMA) September 22, 2022
West's voice on political issues didn't start with the 2020 presidential run, however. He previously criticized former President George W. Bush on national television and later supported former President Donald Trump.
Billboard reported that 2005 was likely West's first time to make public political statements when he had harsh words for Bush in the wake of Hurricane Katrina in New Orleans: "George Bush doesn't care about Black people," West said bluntly.
Bush later mentioned West's comments in an interview, calling it "one of the most disgusting moments in my presidency."
Advertisement - story continues below
In 2015 after marrying Kim Kardashian, Kanye's relatively new wife used her social media influence to endorse former presidential candidate Hillary Clinton for the presidency and Kanye found himself in the background of a snap used to promote the candidate.
I got my selfie!!! I really loved hearing her speak & hearing her goals for our country! #HillaryForPresident pic.twitter.com/zGpdcGSZBD

— Kim Kardashian (@KimKardashian) August 7, 2015
Just weeks later at the end of August 2015,  West announced his 2020 presidential run during the 2015 MTV Video Music Awards where just a few years before he infamously interrupted singer Taylor Swift's acceptance speech. 
Talking about his announcement, the rapper told Vanity Fair days after he was indeed running but that he would prefer to "not run against someone." 
"I would be like 'I want to work with you.' As soon as I heard [Ben] Carson speak, I tried for three weeks to get on the phone with him. I was like this is the most brilliant guy," West said at the time.
Advertisement - story continues below
Trump weighed in on West as a potential political opponent in 2015 telling Rolling Stone, "He's actually a different kind of person than people think. He's a nice guy. I hope to run against him someday."
Truth and Accuracy
We are committed to truth and accuracy in all of our journalism. Read our editorial standards.
Comment Down Below
Conversation