Former GOP Ohio Governor Says Republicans Are Either 'Afraid' or 'in Complete Lockstep' With Trump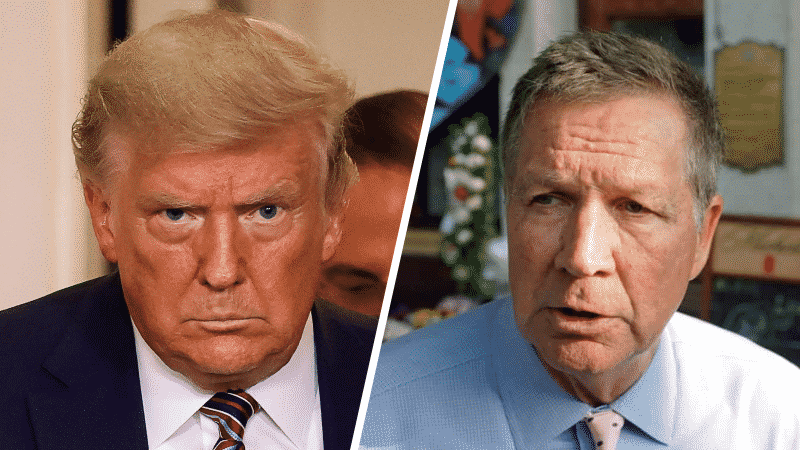 Former Ohio Gov. John Kasich (R) is suggesting some Republicans are "afraid" of President Donald Trump.
After laughing at Trump's attempts to overturn the election, Kasich called the "whole thing" "absurd" and "ridiculous" during an interview on NPR's "All Things Considered" on Sunday.
The former Republican governor added that President-elect Joe Biden has "clearly won this election," before taking aim at Republicans. He said Republicans are "sitting on their hands."
He added that Republicans are "either in complete lockstep with [Trump] or they're afraid of him." Kasich called the enabling of Trump "extremely disappointing for someone who has been a Republican all of my life."
Asked why many leaders of his party have publicly stayed silent while Trump has filed lawsuits in multiple states and refused to concede the election, Kasich said they "either buy into this" or "they're afraid to anger the Trump base."
He continued, "They're afraid that they'll be primaried or they're afraid they'll be severely criticized. And it's a pretty remarkable situation."
Listen to Kasich's comments below:
Kasich — a life-long Republican — previously spoke at the Democratic National Convention. Afterward, he said of his support of Biden on "The View," "I don't agree with him on everything, but the matter is, let's get people together, sit around a table, and figure out some of our big problems."
The current Ohio governor recently found himself under fire, when Trump appeared to call for Ohio Gov. Mike DeWine (R) to face a primary challenge in 2022, as IJR previously reported.
This came after DeWine said on a CNN interview, "I think that we need to consider the former vice president as the president-elect. Joe Biden is the president-elect," before adding, "The president and his campaign has every right to go into court."