Kayleigh McEnany Refers 'Fox & Friends' Question Back To the White House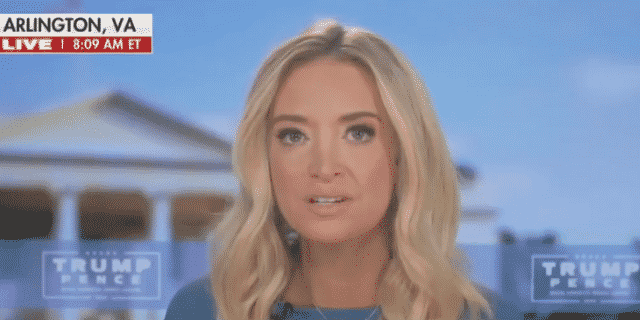 White House press secretary Kayleigh McEnany referred the co-hosts of "Fox & Friends" back to the White House regarding a question asked during her interview.
When asked if President Donald Trump has considered giving President-elect Joe Biden access to the daily intelligence briefs, McEnany told the co-hosts, "I haven't spoken to the president about that."
She continued to then refer the co-hosts to the White House on the question asked — causing confusion since she works for the White House.
McEnany added, "That would be a question more for the White House, but I will say that all laws are being followed with regard to an expected transition, though we expect to continue on as the Trump administration. We will see how our litigation goes."
At the start of Thursday's interview, co-host Brian Kilmeade noted that McEnany took part in the interview in a "dual role" as she appeared on the show as the Trump 2020 campaign adviser.
Watch the videos below:
Kayleigh McEnany's latest Fox & Friends interview begins with Brian Kilmeade trying to explain away why she's violating the Hatch Act pic.twitter.com/rNELT3G7XD

— Aaron Rupar (@atrupar) November 12, 2020
"That would be a question more for the White House" — Kayleigh McEnany works for the White House pic.twitter.com/0MsK8qRK4E

— Aaron Rupar (@atrupar) November 12, 2020
This was not the first time McEnany appeared on Fox News in a personal capacity as a campaign adviser. Deputy White House press secretary Sarah Matthews previously said of McEnany's appearance on the show in the role of campaign adviser that she "was appearing in her personal capacity as a private citizen."
Among those who seemed confused by McEnany's response during Thursday's interview was the press secretary under former President Bill Clinton's administration, Joe Lockhart.
Lockhart tweeted, "It's getting lost in larger outrages, but [Kayleigh McEnany's] behavior is both outrageous and damaging. You can not be both a paid government employee and a spokesperson for the White House. It's against the law. You can't refer q's to yourself wearing a different hat. Prosecute this."
McEnany appeared to defend herself, tweeting from her personal account, "When you enter government, you do not lose First Amendment rights. Hatch Act says to separate govt [and] political activity, which I diligently work to do. Reporters (who ironically have freedom of press embedded in the 1st Amendment), are complaining about my 1A right to speech!"