GA Gov. Kemp Would Still 'Love' To Have Trump's Support Despite Criticism Over Election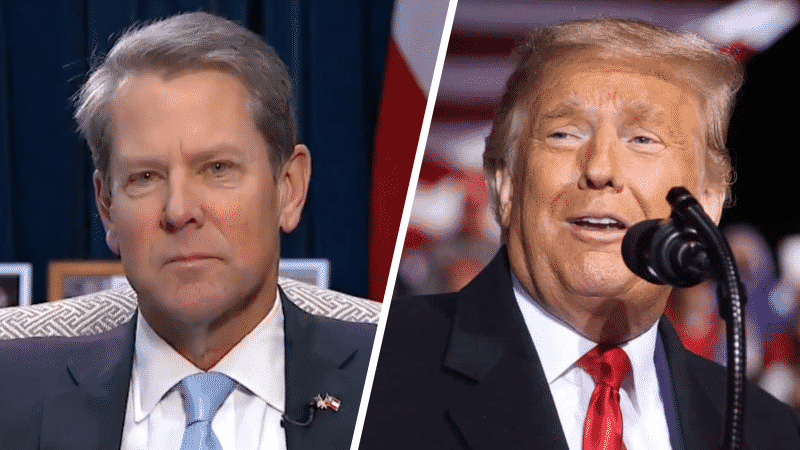 Georgia Gov. Brian Kemp (R) says he welcomes President Donald Trump's support despite coming under fire from the former president over the election.
During an interview on "GMA3: What You Need To Know," Kemp said that despite the criticism he has received from Trump, he would still love the former president's support.
Kemp told ABC News that he and Trump "agree on much more than we disagree."
He added, "I'd love to have his support," but, "I'm going to run on a record."
When pressed further to clarify if he would accept Trump's support after everything that has happened, Kemp called the U.S. Capitol riot by pro-Trump supporters "un-American."
Watch Kemp's interview below:
"We agree on much more than we disagree. I'd love to have his support"

Georgia Gov. @BrianKempGA reveals he still welcomes Trump's support despite the former President's cries to remove him from office, calls Capitol insurrection "un-American." 1pET/12pC/P #GMA3 #WYNTK pic.twitter.com/DUWoBgwB6v

— GMA3: What You Need To Know (@ABCGMA3) January 26, 2021
Trump said in November that he was "ashamed" to have endorsed Kemp, and in December, Trump called on Kemp to resign. Kemp previously dismissed Trump's call to resign.
Georgia Secretary of State Brad Raffensperger also came under fire from Trump, who called him an "enemy of the people." Raffensperger previously wrote in a USA Today op-ed that he and his family donated to and voted for Trump in the 2020 presidential election but were then being "thrown under the bus by him."
Raffensperger was later asked in early January during a "Good Morning America" interview if he would vote for Trump again, to which he said, "I support Republicans — I always have and I probably always will."
President Joe Biden won the state of Georgia in the 2020 presidential election, and Democrats flipped seats in two high-stake Senate runoff elections.