Trump: I Am 'Ashamed' I Endorsed Georgia Gov. Brian Kemp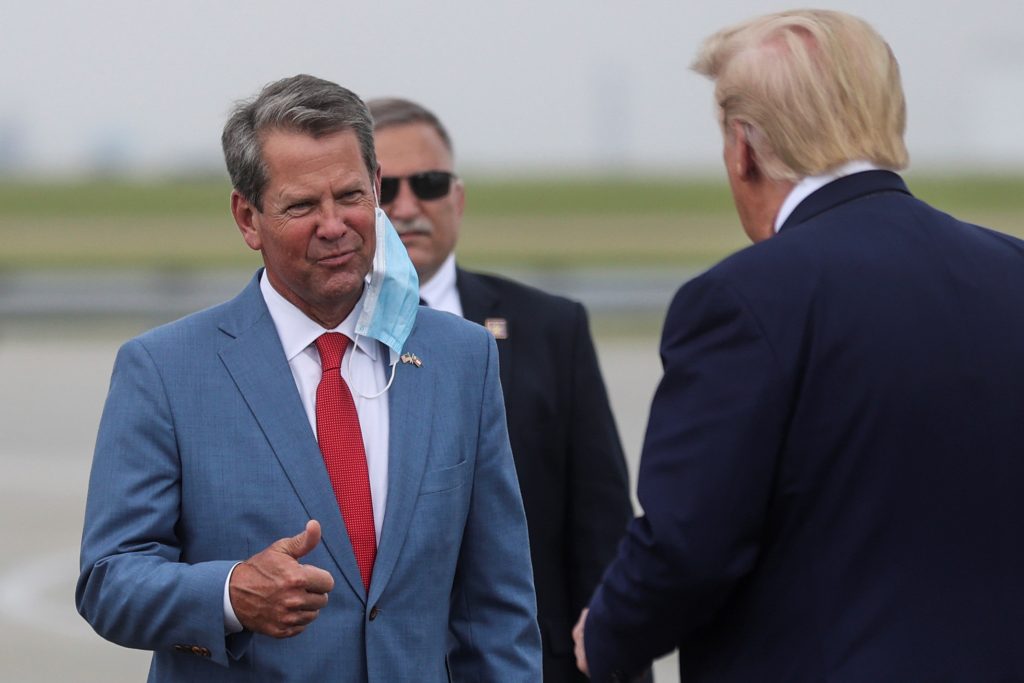 President Donald Trump is expressing his displeasure with Georgia Gov. Brian Kemp's (R) apparent lack of action in response to his campaign's claims of widespread voter fraud in the 2020 presidential election.
During an interview with Fox News' Maria Bartiromo, his first televised interview since the election, Trump blasted Dominion Voting Systems machines that were used in Georgia. His campaign has repeatedly accused the company of participating in a scheme to swing the election without evidence.
He also took aim and Kemp and Georgia Secretary of State Brad Raffensperger (R) for how the state conducted its election.
"Everything has to be approved by the legislature, and they had judges making deals, and they had electoral officials making deals like this character in Georgia who's a disaster," Trump said of Raffensperger.
Trump and his Republican allies have repeatedly alleged that there was widespread fraud in Georgia and that the state's process for counting ballots has not been transparent enough. However, Raffensperger has pushed back and said his office has not found any evidence to support the president's claim.
He then blasted Kemp, who he endorsed for governor in 2018, as he said, "And the governor's done nothing. He's done absolutely nothing. I'm ashamed that I endorsed him."
Watch the video below:
"I'm ashamed that I endorsed him" — Trump disses Brian Kemp for not doing more to help him steal the election in Georgia pic.twitter.com/pCgF7dFIk2

— Aaron Rupar (@atrupar) November 29, 2020
Trump also used his interview on Sunday to bash the FBI and the Department of Justice (DOJ) for an apparent lack of action regarding his claim, as IJR reported.
He accused the agencies of being "missing in action."
"Can't tell you where they are. I ask are they looking at it, everyone says, 'Yes, they're looking at it.' Look where are they with Comey, McCabe, and all these other people?" he said, adding, "I said I'll stay out of it. I wish I didn't make that statement. There's no reason really why I have to."