News
Kinzinger Torches Republican Colleague for Refusing To Shake Officer's Hand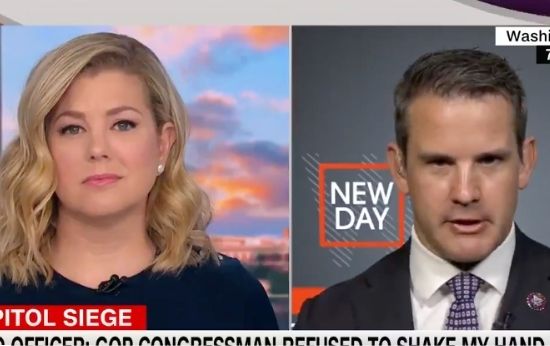 Rep. Adam Kinzinger (R-Ill.) is condemning the actions of Rep. Andrew S. Clyde (R-Ga.) after he refused to shake D.C. police officer Michael Fanone's hand.
"That's what happens when you put somebody that has lied to his constituents … in front of a hero," Kinzinger said on CNN's "New Day" Thursday.
Clyde was one of the 21 Republicans who voted against awarding officers the Congressional Gold Medal for their response on January 6 to the Capitol riot.
Advertisement - story continues below
Kinzinger said that "most" of his colleagues "did the right thing" voting for the legislation, but that there are some other colleagues who "will do anything to defend the lie, the big lie, and they'll defend the big liar."
See Kinzinger's comments below:
"That's what happens when you put somebody that has lied to his constituents … in front of a hero," @RepKinzinger says about the exchange between GOP Rep. Andrew Clyde and DC Metropolitan Police officer Michael Fanone, who defended the Capitol on Jan. 6https://t.co/0rMSXOecZl pic.twitter.com/GxhPaObsuM

— New Day (@NewDay) June 17, 2021
Fanone, who was beaten unconscious during the Capitol breach, told The Washington Post that when he hopped into an elevator with Clyde at the U.S. Capitol on Wednesay, "I simply extended my hand and said, 'How are you doing today, Congressman.' I knew immediately he recognized me by the way he reacted. He completely froze. He just stared at me." Fanone also said after Clyde didn't extend his hand, "I said, 'I'm sorry, you're not going to shake my hand?'"
Advertisement - story continues below
The police officer said he explained who he was and that he "fought to defend the Capitol" on January 6, but Clyde's "response was nothing" and the lawmaker "turned away from me, pulled out his cellphone and started thumbing through the apps."
The lawmaker "bolted when the doors opened," the Post reports.
I just called Officer Fanone and confirmed this story. This is really incredible. Also relayed an interaction he had with another members Chief of Staff that was really incredibly bad and disrespectful. https://t.co/fERYjK6dWg

— Adam Kinzinger (@AdamKinzinger) June 16, 2021
Kinzinger also spoke out this week in response to Rep. Paul Gosar's (R-Ariz.) remarks where he said during a hearing that a police officer "executed" Ashli Babbitt, who was fatally shot by a Capitol Police officer on January 6.
"You're sick Paul, sadly," Kinzinger tweeted on Tuesday evening. "Truth is, Ashli was manipulated by people like you and breached an area and put lives in danger despite being repeatedly warned not to. The real criminals are the liars abusing people for political power."
Advertisement - story continues below
Gosar also received criticism from his sister, who told CNN's Anderson Cooper on Wednesday evening, "To see our Congressmen are actively trying to erase what is a very documented insurrection and to know my brother is a part of that is not surprising to me." She added, "I'm just stunned at the brazenness of it."
Jennifer Gosar also said, "The convenience which Paul finds stories to fuel his anger, his hate and his bigotry. Does he believe it all? I think he probably doesn't but it's so convenient." She said her brother is able to "fuel his rhetoric" with that.
Truth and Accuracy
We are committed to truth and accuracy in all of our journalism. Read our editorial standards.
Conversation