Kinzinger Says Trump Was Getting 'His Monthly Dose of Adoration' at CPAC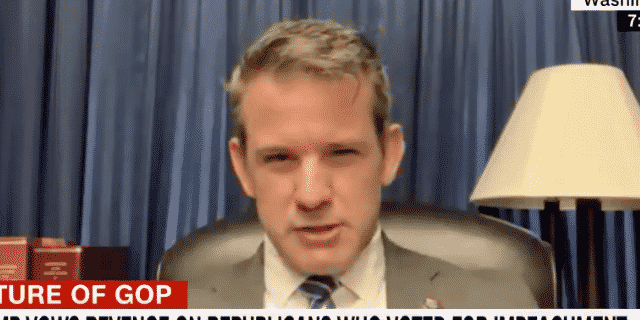 Rep. Adam Kinzinger (R-Ill.) is suggesting former President Donald Trump was getting his "monthly dose of adoration" when he spoke at the Conservative Political Action Conference (CPAC) over the weekend.
"It looked like somebody that just needed his monthly dose of adoration in front of a crowd," Kinzinger said during an interview on CNN's "New Day" Tuesday morning. "So, I really was bored."
"I think if [this year's CPAC] was the first time we heard Donald Trump speak it would be shocking…but…he had no new ideas."
Kinzinger was asked if he ever worries that he is the "outsider" of the Republican Party, to which he responded, "Yeah, that is a worry. It's not a worry because I'm worried about my future."
The lawmaker noted what he is worried about is if "that is where the party is" with the crowd at CPAC, then "the party's in real trouble."
Watch Kinzinger's interview below:
"It looked like somebody that just needed his monthly dose of adoration in front of a crowd. So, I really was bored."@RepKinzinger on former President Trump's lie-filled speech at CPAC over the weekend.https://t.co/dMK9TujQYs pic.twitter.com/2yACz9s1wr

— New Day (@NewDay) March 2, 2021
Kinzinger was previously sent a scorching letter from 11 family members expressing their disapproval of his breaking with Trump. He called to remove Trump from office after the riot at the U.S. Capitol on Jan. 6.
The Republican lawmaker told CNN's Chris Cuomo, "I'm glad the letter came out because I think that people need to see — if you haven't experienced that division in your family, this is the best example of it."
At CPAC on Sunday, Trump teased a potential 2024 presidential run. He also smacked down reports he would start a new party.
On the 2024 presidential election, he said during a recent interview, "I've done a good job for this party," adding, "I think based on the job performance, I'm not sure that anybody should be able to win other than us."
Asked if "no one" could beat him, Trump said, "I can't imagine it if I decide to do that. I haven't decided to do that. But I love our country. I'm going to do what's right for our country."
Trump won CPAC's straw poll, with 55% of respondents saying they would vote for him in the 2024 Republican primary.