News
Kinzinger Calls US Withdrawal From Afghanistan a 'Crushing Defeat'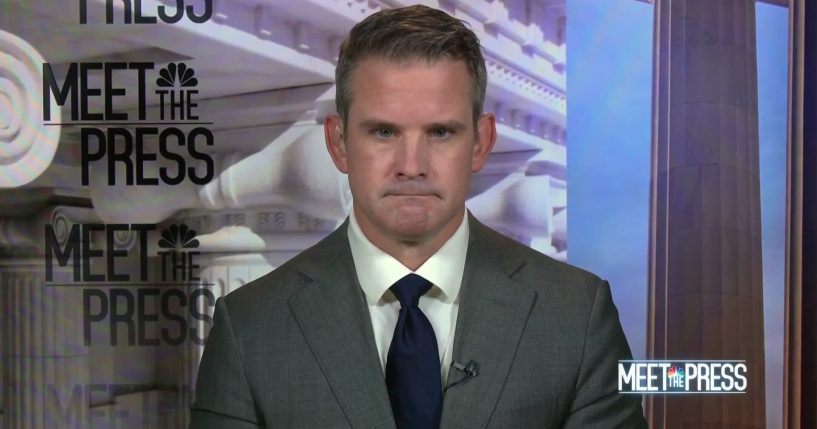 Rep. Adam Kinzinger (R-Ill.) says the decision to withdraw U.S. forces from Afghanistan is a "defeat."
During an appearance on NBC's "Meet The Press" on Sunday, Kinzinger was asked if he agrees with a headline in The Economist that called the decision to withdraw a "crushing defeat."
"I agree. It's a crushing defeat. You know, the Taliban always had a saying. They said, 'America has the watches, but we have the time,'" he responded.
Advertisement - story continues below
He continued, "You know, I'm proud of the American people for sticking by this mission for 20 years. We actually needed to do it longer, and we still have troops in Kosovo."
"But unfortunately, it worked. The Taliban have outlasted the will of the United States. It was not a hot war, really. It was basically a peacekeeping operation, and we may have to go back now. It is a crushing defeat, and I'm really sad about it, honestly," he added.
Watch the video below:
Advertisement - story continues below
Earlier this month, the U.S. left Bagram Air Base which served as a hub for the military operation in Afghanistan.
Host Chuck Todd asked Kinzinger if he thinks the U.S. will have to "occupy" the base in the future or "somehow attack it because our enemies have taken it over."
"I do think it's quite likely we're going to have to either — when we return to Afghanistan because, you know, of the existential threat to us or our allies — re-occupy Bagram or we may have to bomb it if there's some kind of an air mission," Kinzinger said.
He added, "We only had 2,500 troops there, 5,000 NATO troops, and the Afghanistan government was doing 98 percent of the fighting against the Taliban. It's no wonder they're collapsing when the U.S. says, 'We're gone.' But it was really a small price to pay for frankly holding off the inevitable bad that unfortunately we're going to see."
Last week, Biden set a final withdrawal date of Aug. 31 for U.S. forces.
Advertisement - story continues below
Speaking at the White House on Thursday, Biden defended the decision to leave Afghanistan, "The United States did what we went to do in Afghanistan, to get the terrorists who attacked us on 9/11 and deliver justice to Osama Bin Laden and to degrade the terrorist threat to keep Afghanistan from becoming a base in which attacks could be continued against the United States."
"We achieved those objectives. That's why we went. We did not go to Afghanistan to nation-build, and it is the right and the responsibility of Afghan people alone to decide their future and how they want to run their country," he added.
Truth and Accuracy
We are committed to truth and accuracy in all of our journalism. Read our editorial standards.
Comment Down Below
Conversation