News
Klobuchar: Dems Should Abolish the Filibuster To Address Abortion Restrictions and 'So Many Other Things'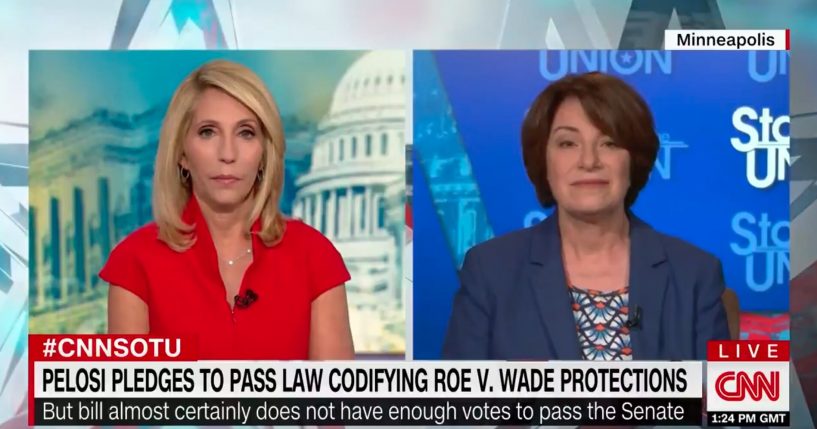 Sen. Amy Klobuchar (D-Minn.) says the Senate should eliminate the filibuster to allow Democrats to address many of their policy priorities, including codifying abortion protections.
In an interview on CNN's "State of the Union" on Sunday, the Minnesota Democrat address Texas' controversial new abortion law and how she believes the Senate should respond.
"My solution to this — which is my solution for voting rights and so many other things, including climate change, where one side of the country is in flames, and the other side of the country is flooded with people dying submerged in their cars — I believe we should abolish the filibuster," Klobuchar said.
Advertisement - story continues below
She added, "I do not believe an archaic rule should be used to allow us to put our heads in the sand… and not take action on these important issues."
"We just will get nowhere if we keep the filibuster in place," she argued.
Watch the video below:
Sen. Amy Klobuchar says the Senate should abolish the filibuster in order to codify abortion rights after the Supreme Court allowed Texas' restrictive anti-abortion law to stand: "Now and over the next years, we just will get nowhere if we keep this filibuster in place." pic.twitter.com/7ZexK03wdp

— State of the Union (@CNNSotu) September 5, 2021
Advertisement - story continues below
Progressives have been pushing Senate Democrats to eliminate the filibuster, a procedural hurdle used to delay or block legislation, which would let them pass bills with just 51 votes in the upper chamber instead of 60.
The Senate is currently divided 50-50, meaning Democrats need at least 10 Republicans to vote for legislation for it to pass the chamber.
Should Democrats get rid of the filibuster?
Klobuchar's comments come after the Supreme Court in a 5-4 ruling did not block Texas' abortion law which is the most restrictive in the nation.
The law, which went into effect on Wednesday, bans abortions after a fetal heartbeat is detected. It also provides incentives for individuals to sue anyone suspected of helping a woman get an abortion by providing a reward of at least $10,000.
House Speaker Nancy Pelosi (D-Calif.) said that the lower chamber would bring up the Women's Health Protection Act "to enshrine into law reproductive health care for all women across America."
Advertisement - story continues below
However, with the filibuster in place it is unlikely Democrats in the Senate would garner enough Republican support to pass such legislation.
Truth and Accuracy
We are committed to truth and accuracy in all of our journalism. Read our editorial standards.
Conversation