GOP Senator Pens Letter Apologizing To Black Constituents for Election Challenge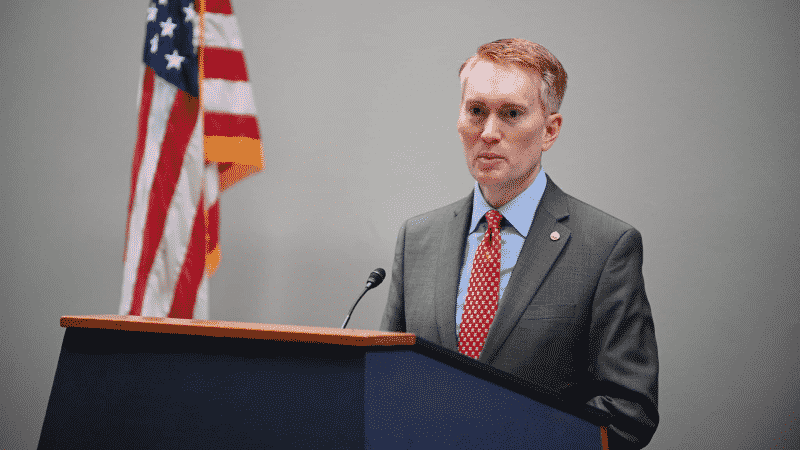 Sen. James Lankford (R-Okla.) is apologizing to his Black constituents after he originally planned to challenge the presidential election results.
He is noting that challenges to the election were viewed as "casting doubt on the validity of votes coming out of predominantly Black communities" across the country.
In a letter to "friends in North Tulsa" on Thursday, Lankford recognized, "My action of asking for more election information caused a firestorm of suspicion among many of my friends, particularly in Black communities around the state. I was completely blindsided, but I also found a blind spot." The letter was obtained by Tulsa World.
He continued, "What I did not realize was all of the national conversation about states like Georgia, Pennsylvania, and Michigan, was seen as casting doubt on the validity of votes coming out of predominantly Black communities like Atlanta, Philadelphia, and Detroit." The senator added:
"After decades of fighting for voting rights, many Black friends in Oklahoma saw this as a direct attack on their right to vote, for their vote to matter, and even a belief that their votes made an election in our country illegitimate."
In his conclusion, Lankford wrote, "I can assure you, my intent to give a voice to Oklahomans who had questions was never also an intent to diminish the voice of any Black American… I should have recognized how what I said and what I did could be interpreted by many of you."
"I deeply regret my blindness to that perception, and for that I am sorry."
Oklahoma Sen. James Lankford has apologized for originally planning to object to some electoral college results before the deadly Capitol riots. pic.twitter.com/u0Qnx9HLRI

— TODAY (@TODAYshow) January 15, 2021
Lankford was among a group of Republican senators planning to challenge the election results unless a commission was formed to audit the presidential election results over a 10-day period.
"If my colleagues will not agree to hear the concerns of millions of Americans, I am still prepared to oppose some of the electors today," Lankford tweeted on the afternoon of Jan. 6, pointing to an op-ed he wrote.
I did not change my mind. Reports otherwise are not true. If my colleagues will not agree to hear the concerns of millions of Americans, I am still prepared to oppose some of the electors today. You can read my full op-ed here: https://t.co/dte5i0a5cH

— Sen. James Lankford (@SenatorLankford) January 6, 2021
However, the night of the riot when protesters stormed the U.S. Capital — which brought a temporary halt to Congress cemented Joe Biden's election win — Lankford wrote in a statement, "Today is a sad day for our country. The destruction and violence at our nation's Capitol is an assault on our democracy."
After calling for a "peaceful and orderly transition of power," Lankford said, "We must stand together as Americans. We must defend our Constitution and the rule of law."