Manchin Rips Harris for Doing Local Interview in His Home State to Advocate for More COVID Relief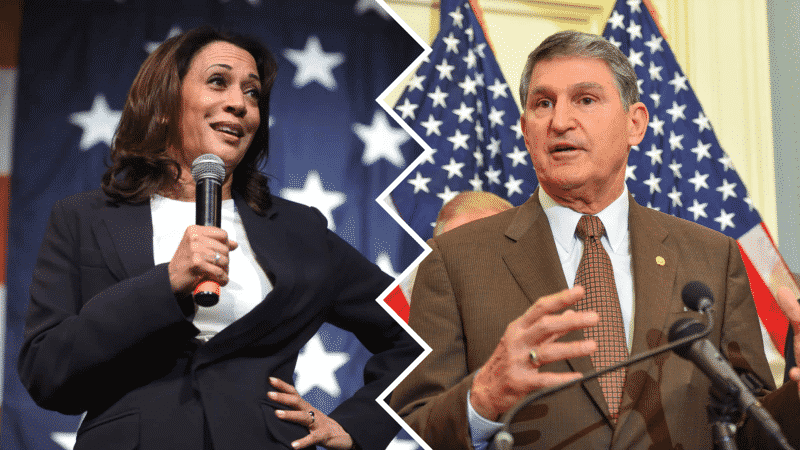 President Joe Biden is pushing Congress to pass his $1.9 trillion COVID-19 relief package, and the administration is deploying Vice President Kamala Harris to help sell the bill to the American people.
The Senate is currently divided 50-50, and every Democrat and at least 10 Republicans would need to vote in favor of a bill to pass it. Or Democrats can use budget reconciliation to pass the relief package with just 51 votes, but that would require every Democrat to vote for it and Harris would cast the tie-breaking vote absent Republican support.
Sen. Joe Manchin (D-W. Va.) has previously expressed his disinterest in sending out another round of direct payments to Americans — which is included in Biden's bill. His vote would be crucial for Democrats to advance the package.
On Thursday, Harris gave an interview to local station WSAZ in West Virginia where she said, "To your point in West Virginia, one in seven families is describing their household as being hungry, one in six can't pay their rent, and one in four small businesses are closing permanently or have already closed, so it's a big issue in West Virginia and across the country."
Manchin was not pleased with the vice president's decision to take to the airwaves in his home state to advocate for another relief package.
"I saw [the interview], I couldn't believe it. No one called me [about it]," he said on Friday. "We're going to try to find a bipartisan pathway forward, but we need to work together. That's not a way of working together."
Manchin addressed the provision in Biden's bill that would send Americans $1,400 checks as he said, "We met [Biden's] economic team, and they put out what they wanted. We said, 'Just show us the figures.' Because people need to know. We want to help everybody that needs help."
"But if a person is making $250,000 or $300,000, I don't think they're in much as need as a person making $40,000 or $50,000. We're going to target it," he added.
When asked why Harris had done local interviews in West Virginia and Arizona, White House Press Secretary Jen Psaki said, "We want to make the case to the American people across the country… This is a way to do just that."
"I think [the vice president will] do a number of additional regional calls and regional interviews, as will members of the team," she added.