Manchin Says He Is 'Most Certainly' Concerned About Biden's Push for a 'More Expansive Government'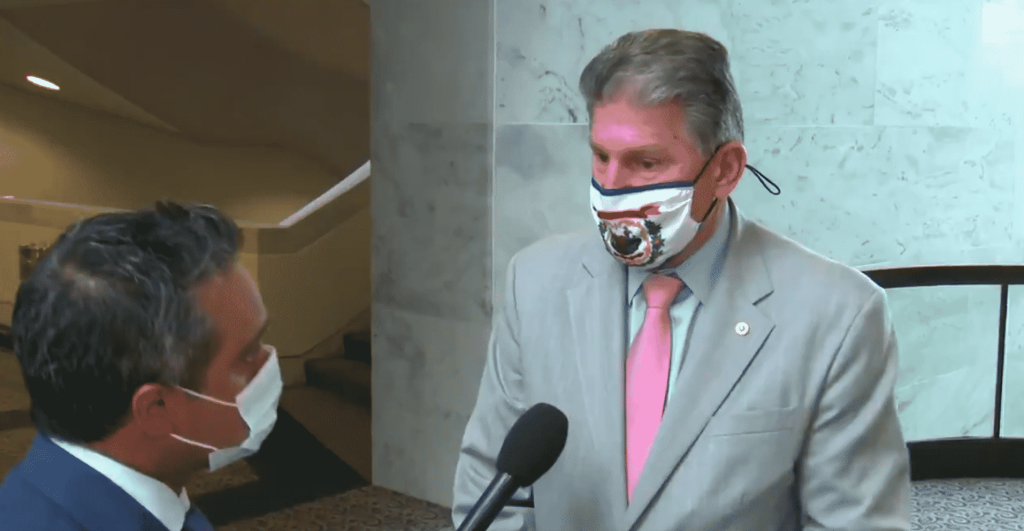 President Joe Biden is laying out an ambitious agenda that aims to expand the government's role in the economy.
In a speech before a joint session of Congress on Wednesday, Biden asked lawmakers to pass his American Families Plan, which would spend $1.8 trillion on healthcare, child care, and education. He also urged Congress to pass his $2.25 trillion infrastructure package that he unveiled earlier this month.
However, Sen. Joe Manchin (D-W. Va.) is signaling that he has some concerns about the proposed spending. CNN's Manu Raju asked him on Thursday, "Are you concerned about this push for a more expansive government?"
"Oh, most certainly. Yea, I am. But I want to see the details," Manchin said, adding, "The bottom line is, [there's] a lot of need in our country. There's a lot of opportunities in our country that are coming."
He continued, "And basically, we're coming out of this pandemic with a booming economy. We're going to have a booming economy… I'm told that all the banks, even all my community banks, have a tremendous amount of savings. Pent-up money to be invested. So we're ready to go. The bottom line is, let's look at what we're doing that can have long-lasting effects."
While he said he believes there should be some reform to the tax code, he warned, "We can't overreach to the point to where we stymie investments, we stymie basically growth for 2022, 2023, 2024, and beyond."
Watch the video below:
Biden has called his latest proposals a "once in a generation investment in our families and our children."
His infrastructure plan would spend $621 billion on overhauling the nation's roads and bridges, and $111 billion on expanding access to high-speed internet, improving drinking water, and upgrading the nation's electric grid. It would provide $20 billion in tax credits for building or retrofitting energy-efficient housing units.
His American Families Plan would spend $225 billion to subsidize child care and a paid family and medical leave program. It would also spend $200 billion on education to provide free universal preschool for children in low to middle-class families and provide two years of free community college.
To pay for his plans, Biden is proposing raising the corporate tax rate and the gain-capitals rate, as well as the top income tax rate.
Congressional Republicans have signaled their opposition to Biden's proposed spending, which they claim is a "patchwork of left-wing social engineering programs." They have also balked at the president's proposed tax hikes to pay for the new spending.
Democrats are considering using a Senate procedure that would let them sidestep the filibuster, 60 vote threshold, to pass Biden's infrastructure with just 51 votes.
Manchin's vote would be critical if Democrats failed to win over Republicans as they would need every member of their caucus to vote for the bill, with Vice President Kamala Harris casting the tie-breaking vote, for it to pass the chamber.
However, he has previously said he believes Biden's infrastructure plan "needs to be changed" and said he would not support it "as it exists today."