News
Manchin Says He Opposes a Filibuster 'Carve-Out' for Voting Rights Legislation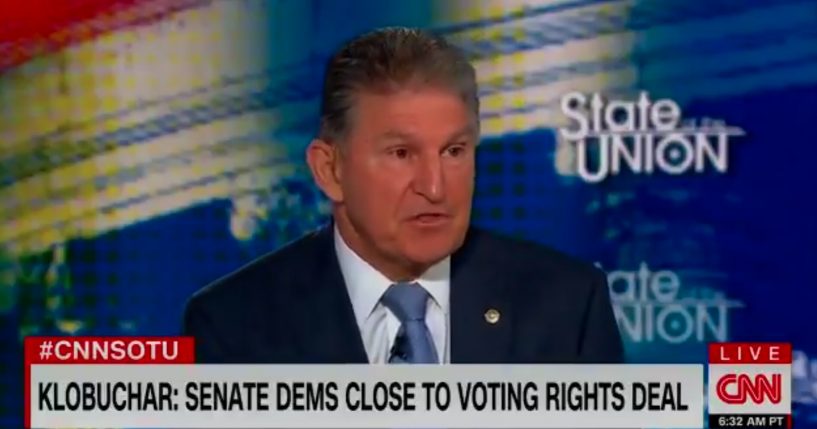 Sen. Joe Manchin (D-W. Va.) says he opposes changing the Senate rules to make voting rights legislation immune from the filibuster.
During an appearance on CNN's "State of the Union," Manchin was asked by host Jake Tapper, "Is there any circumstance under which you can imagine allowing a carve-out — I know you oppose getting rid of the filibuster. But there are some people in the more moderate camp like Angus King of Maine who's an independent who said that he's possibly willing to step back from his opposition to getting rid of the filibuster just for voting rights because he's so concerned it's become so partisan, can you imagine ever doing that?"
"Jake, I can't imagine a carve-out," Manchin said. "Because I was here in 2013 when it was called a carve-out, 'We're just going to do the Cabinet for the president.' And then it went into, 'We're going to do the judges for lifetime appointments for circuit districts.' They were even going to do the Supreme Court, but they didn't at that time. The Democrats were in control."
Advertisement - story continues below
He went on to note that after Republicans won control of the Senate, they got rid of the filibuster for Supreme Court nominees, allowing senators to advance nominations with just 51 votes instead of 60.
"Mitch McConnell's in control, comes right back in, and guess what? That carve-out worked to really carve us up pretty bad. Then you had the Supreme Court, okay? So there's no stopping it," he said.
Watch the video below:
In short, Sen. Joe Manchin (D-WV) is still a no on killing the filibuster or any sort of carve-out for voting rights. pic.twitter.com/6xKbZwbzsv

— The Recount (@therecount) August 1, 2021
Advertisement - story continues below
The filibuster is a procedural hurdle in the Senate that is used to delay or block legislation and requires 60 votes to overcome, meaning most legislation needs at least 60 votes to pass.
The chamber is currently divided 50-50 between Democrats and Republicans, which means that Democrats need at least 10 Republicans to vote for legislation for it to pass.
Should Dems make a filibuster carve-out for voting rights?
Some progressives have called for Senate Democrats to eliminate the filibuster, which would let lawmakers pass legislation with just 51 votes, with Vice President Kamala Harris casting the tie-breaking vote.
However, Manchin has previously said he would not vote to eliminate the filibuster, as IJR reported.
He appears unmoved even after Republicans effectively blocked Democrats' sweeping voting rights bill by denying them the required votes to begin debate on the legislation in June.
Truth and Accuracy
We are committed to truth and accuracy in all of our journalism. Read our editorial standards.
Comment Down Below
Conversation