News
Manchin Reportedly Proposed Slashing Dems' Spending Package by $2 Trillion in July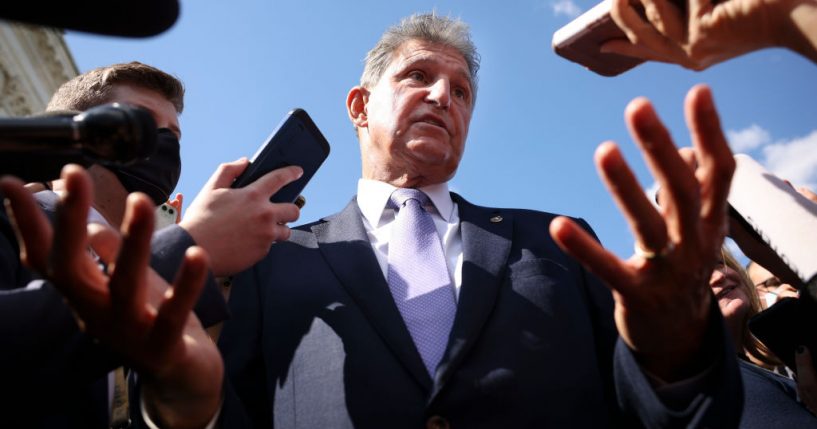 Sen. Joe Manchin (D-W.Va.) reportedly proposed to Senate Majority Leader Chuck Schumer (D-N.Y.) limiting the size of a massive Democratic spending package to $1.5 trillion over the summer.
In a copy of the proposal, obtained by Politico on Thursday, Manchin laid out details to counter Democrats' $3.5 trillion reconciliation bill.
The document shows that the West Virginia senator suggested a $1.5 trillion bill with funds that would not be distributed until unused funds from previous COVID-19 relief packages had been spent.
Advertisement - story continues below
The proposal also called for preserving fossil fuel subsidies if tax credits for solar and wind power were included in the bill. It also called for the "innovation, not elimination" of energy sources.
Additionally, the West Virginia senator proposed raising the corporate tax rate to 25%, the top income rate to 39.6%, and the capital gains rate to 28%. It also said that any revenue "exceeding $1.5 trillion" would be used for "deficit reduction."
Manchin also suggested not starting debate on the bill until at least Oct. 1.
Finally, the memo included a warning in bold text that read, "Senator Manchin does not guarantee that he will vote for the final reconciliation legislation if it exceeds the conditions outlined in this agreement."
Advertisement - story continues below
The document included the signatures of Manchin and Schumer.
Check out the proposal below:
A senate aide confirms authenticity of this document from July, reported by Politico – that Manchin proposed to Schumer a topline $1.5T reconciliation bill, with debate to begin no later than 10/1/2021. Says Manchin does not guarantee vote for reconciliation if it exceeds $1.5T pic.twitter.com/JMX7SXxXyS

— Jacqui Heinrich (@JacquiHeinrich) September 30, 2021
A spokesman for Schumer told Politico, "Leader Schumer never agreed to any of the conditions Sen. Manchin laid out; he merely acknowledged where Sen. Manchin was on the subject at the time.
"Sen. Manchin did not rule out voting for a reconciliation bill that exceeded the ideas he outlined, and Leader Schumer made clear that he would work to convince Sen. Manchin to support a final reconciliation bill — as he has doing been for weeks," he added.
Advertisement - story continues below
The release of the proposal comes a day after Manchin called Democrats' $3.5 trillion reconciliation "fiscal insanity."
"I can't support $3.5 trillion more in spending when we have already spent $5.4 trillion since last March," he said in a statement on Wednesday.
He argued, "Proposing a historic expansion of social programs while ignoring the fact we are not in a recession and that millions of jobs remain open will only feed a dysfunction that could weaken our economic recovery. This is the shared reality we all now face, and it is this reality that must shape the future decisions that we, as elected leaders, must make."
Democrats are hoping to use the budget reconciliation process, which is immune from a filibuster, to pass their spending bill. In order for it to succeed, every Democrat would have to vote "yes."
Advertisement - story continues below
If Manchin does not support the $3.5 trillion package, it would not pass the chamber.
Truth and Accuracy
We are committed to truth and accuracy in all of our journalism. Read our editorial standards.
Conversation