News
Marjorie Taylor Greene Shares Security Footage From 'Swatting' Incident at Her Georgia Home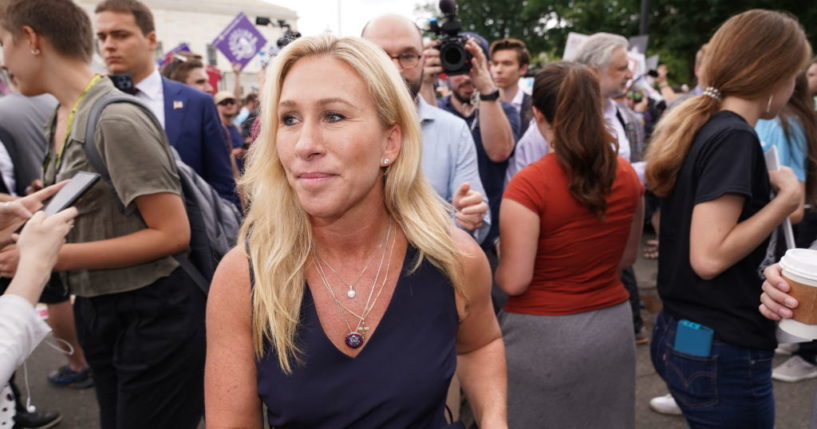 Rep. Marjorie Taylor Greene (R-Ga.) talked to members of the media about her home being "swatted" and shared footage from her security camera.
Greene says she was swatted twice in just over 24 hours last week and the congresswoman sat down with a journalist from Right Side Broadcasting Network to talk through the events and offer security camera footage of her interaction with police.
Greene told her interviewer that she was asleep at the time police arrived at her home, but that her security camera showed the police arrive and fan out to surround the home which they were told was the scene of a crime.
Advertisement - story continues below
According to the congresswoman's recounting of events, police were reportedly told that someone was shot in the chest and was in the bathtub and more violence would be perpetrated by a female with a gun who was threatening to kill herself if the police did not intervene.
"I just believe that it was truly a God thing that I had that feeling not to carry that gun with me to the front door," Greene said during her interview. "Because had I have done that, we would have been in a whole different scenario because I probably would have been the target and that is the whole purpose of swatting someone."
Watch the video below:
WATCH: Never before seen security camera footage. pic.twitter.com/z4FPOhPBF0

— Rep. Marjorie Taylor Greene🇺🇸 (@RepMTG) August 28, 2022
Advertisement - story continues below
The swatting was reportedly perpetrated because of Greene's stance on transgenderism, according to the Rome News-Tribune.
The police report stated, "After we cleared the call and went back in service, Rome-Floyd 911 received a call from the suspect, claiming responsibility for the incident and explaining his/her motives."
"It was a computer generated voice. They explained they were upset about Ms. Greene's stance on 'trans-gender youth's rights,' and stated they were trying to 'swat' her," it added.
SWATTED: @RepMTG could have been killed and the media has remained mostly silent. Heritage's @MHowellTweets brings you the story. pic.twitter.com/9aSCVtYsQx

— Heritage Foundation (@Heritage) August 26, 2022
About 26 hours after the first swatting took place the Rome, Georgia, Police Department received a second call about fake crimes at the lawmaker's home.
Advertisement - story continues below
The suspect falsely claimed a man "came out as transgender and claimed they shot the family" living at Greene's address, as CNBC reported, citing the police report.
Law enforcement met Greene at her front door and reportedly confirmed that it was a second false alarm, per the report. However, they were unable to see the location used in the chat line because the suspect used a VPN.
Truth and Accuracy
We are committed to truth and accuracy in all of our journalism. Read our editorial standards.
Comment Down Below
Conversation