News
Matthew McConaughey Reveals Whether He Is Going to Run for Governor of Texas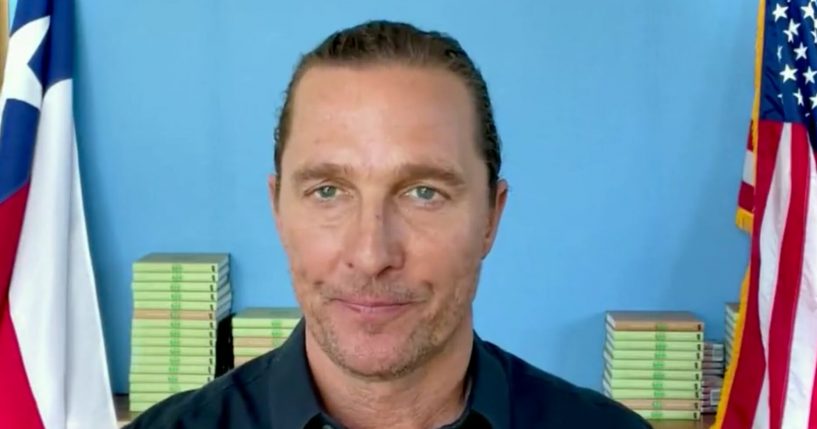 Actor Matthew McConaughey made a decision on whether he is going to run for governor of Texas.
In a video posted to Twitter Sunday, McConaughey said he would not be choosing that path. He explained, "I've been listening, I've been learning, I've been measuring."
He later reflected on his experience of growing up in a little town in Texas, adding, "It never occurred to me that I would one day be considered for political leadership. It's a humbling and inspiring path to ponder. It is also a path that I am choosing not to take at this moment."
Advertisement - story continues below
Instead, the actor said he is going to continue to support "entrepreneurs, businesses, and foundations" he believes are "leaders."
McConaughey also said he will be supporting establishments he believes are "creating pathways for people to succeed in life."
Concluding his message, McConaughey suggested politicians are unable to do anything for Americans "unless we choose to do for ourselves."
Check out the video below:
Advertisement - story continues below
— Matthew McConaughey (@McConaughey) November 29, 2021
In September, McConaughey told the "Set‌ ‌it‌ ‌Straight:‌ ‌Myths‌ ‌and‌ ‌Legends" podcast he was "measuring" a run for governor, adding, "Look, it's going to be in some capacity. … I just — I'm more of a folksy and philosopher poet statesman than I am a, per se, definitive politician."
He continued, "So I go, well, that's a reason not to, but then I go, no, that's exactly why you should, because politics needs redefinition, but I'm measuring, you know, what is my category? What's my embassy?"
A September poll showed McConaughey held a nine-point lead over Gov. Greg Abbott (R) in a theoretical matchup.
During an interview with the New York Times Opinion's "Sway" podcast in October, McConaughey commented on the state of politics, as IJR reported.
Advertisement - story continues below
"Yeah, it's a broken business. And it's getting dangerous now, you know, when both parties on their own would claim themselves to be democracy itself. And your party's identity is more based on invalidation than any vision or validation of what they're about. And— you know, and right now, they've run to such extremes," he said.
Suggesting the United States needs to "redefine politics," McConaughey added, "What I fear is, you know, great nations aren't taken over from the outside. They implode. Civil war— that's the big fear for me for the country, is this path we're going. It's not constructive. I don't see the way out right now through politics."
Truth and Accuracy
We are committed to truth and accuracy in all of our journalism. Read our editorial standards.
Comment Down Below
Conversation