News
'Broken Business': Matthew McConaughey Speaks Out About the State of Politics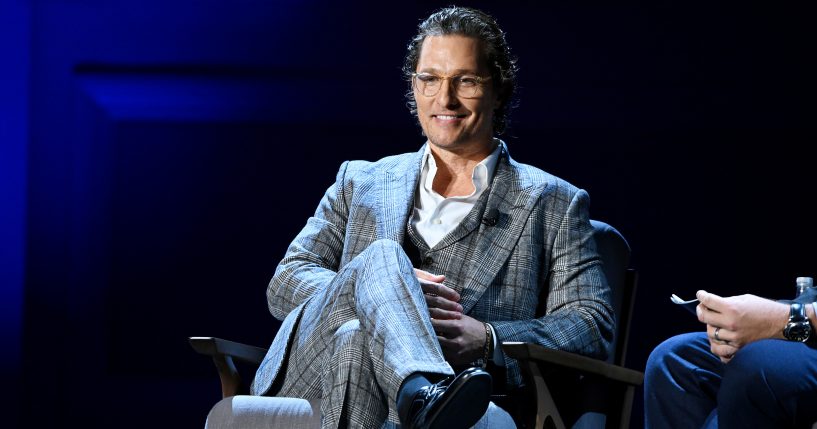 Matthew McConaughey weighed in on the state of politics, suggesting it is "getting dangerous now."
During an interview with the New York Times Opinion's "Sway" podcast, host Kara Swisher noted McConaughey is "measuring" a bid for Texas governor.
She asked McConaughey, "What are you measuring?"
Advertisement - story continues below
He explained, "Who am I going to be? No, who— who am I going to be? Where can I be most useful? Is politics an embassy for me to be of the most use to myself, to my family, to the most amount of people in my life moving forward?"
Swisher added, "Right. So how do you measure that?"
The actor replied, "Well, I'm studying— I'm not studying. I'm learning about politics. I'm also noting where I'm going, eh, don't know about politics. Ooh, is that a place to make real change, or is it a place where, hey, right now, it's a fixed game."
He continued, "You go in there— you just put on a bunch of Band-Aids in four years, and walk out, and they rip 'em off when you're gone. I'm not interested in that. Does politics itself need such repurposing right now that it's like, don't get into that game? They're lost."
Advertisement - story continues below
Swisher also pointed out McConaughey called it a "broken business."
He argued, "Yeah, it's a broken business. And it's getting dangerous now, you know, when both parties on their own would claim themselves to be democracy itself. And your party's identity is more based on invalidation than any vision or validation of what they're about. And— you know, and right now, they've run to such extremes."
Is politics a "broken business"?
McConaughey went on to tell Swisher he believes the country needs to "redefine politics," adding, "What I fear is, you know, great nations aren't taken over from the outside. They implode. Civil war— that's the big fear for me for the country, is this path we're going. It's not constructive. I don't see the way out right now through politics."
Still, he acknowledged, "One side of the argument is, McConaughey, exactly. That's why you need to go get in there. The other side is, pfft, that's a bag of rats, man. Don't touch that with a 10 foot pole."
According to McConaughey, there is another option.
Advertisement - story continues below
"You have another category to have influence, and get done things you'd like to get done, and help how you think you can help, and even heal divides. Maybe it's much better outside of politics," he said.
During an appearance on on "The Ellen DeGeneres Show" in May, McConaughey said he was giving a bid for governor of Texas "honest consideration."
In September, a poll conducted by the Dallas Morning News and the University of Texas at Tyler found McConaughey in the lead over Texas Gov. Greg Abbott (R) in a hypothetical matchup.
Truth and Accuracy
We are committed to truth and accuracy in all of our journalism. Read our editorial standards.
Conversation