News
McAuliffe Called Out for 'Lie' About Youngkin Campaigning With Trump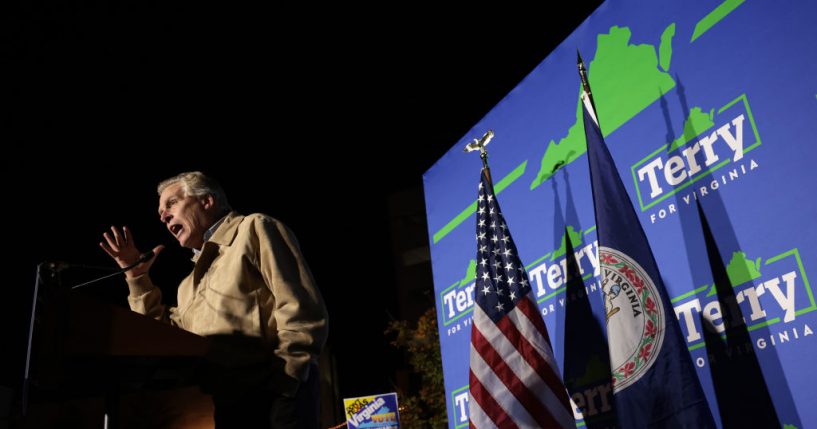 Democratic Virginia gubernatorial nominee Terry McAuliffe is being called out for claiming that his Republican opponent, Glenn Youngkin, held a campaign event with former President Donald Trump in the state.
Politico's "Playbook" noted that during his final rally on Monday, McAuliffe claimed, "Guess how Glenn Youngkin is finishing his campaign?" 
"He is doing an event with Donald Trump here in Virginia," he added.
Advertisement - story continues below
However, the outlet noted, "That was a lie. Trump wasn't in Virginia and he never campaigned with Youngkin, though he did make the case for the GOP candidate — 'fantastic guy!' — during a brief 'tele-rally.'"
"Thirty miles away, at the Loudoun County Fairgrounds, a crowd several times the size of McAuliffe's was waiting for Youngkin to take the stage. You got a hint of why McAuliffe was desperate to manufacture the fake Trump event. While McAuliffe has boundless energy — 'Sleep when you're dead!' he likes to say — his Monday audiences in Richmond and Fairfax, where we caught up with him, were modest and listless," it added.
In May, Trump endorsed Youngkin for governor, but since then, the Republican nominee has tried to distance himself from the former president.
Speaking to reporters earlier this month, Youngkin avoided saying whether he wanted Trump to campaign for him. He said, "Anybody who calls me a good man, I so appreciate it, including President Trump."
Advertisement - story continues below
Democrats have seized on the former president's absence to mock him. In October, the Democratic National Committee flew a plane near Trump's Mar-a-Lago resort with a banner that read, "Why won't Youngkin let Trump campaign in VA?"
And President Joe Biden, while campaigning for McAuliffe, said, "Terry's opponent has made all of his private pledges of loyalty to Donald Trump. But what's really interesting to me, he won't stand next to Donald Trump now that the campaign's on. Think about it. He won't allow Donald Trump to campaign for him in this state."
He asked, "He's willing to pledge his loyalty to Trump in private. Why not in public? What's he trying to hide? Is there a problem with Trump being here? Is he embarrassed?"
Truth and Accuracy
We are committed to truth and accuracy in all of our journalism. Read our editorial standards.
Comment Down Below
Conversation