News
Meghan McCain Blasts Protesters for 'Harassing' Sinema: 'How Disgusting'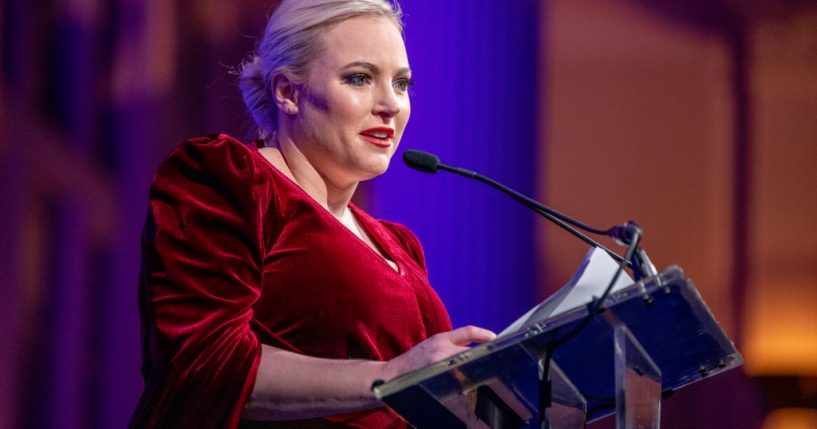 Meghan McCain is decrying the protesters who accosted Sen. Kyrsten Sinema (D-Ariz.) and followed her into a bathroom due to her position on President Joe Biden's Build Back Better agenda.
In a column published in The Daily Mail on Monday, McCain wrote, "After four years of Trump have liberals succeeded in becoming the cliché of hating something so much they've become it [sic] their visceral, hysterical and sometimes irrational response to politics they oppose?"
"Don't get me wrong, the Trump years and Trump himself were awful, taxing, emotional and chaotic for all the reasons all of you already know. However the Left in this country in many ways has become a mirror version of Trump and Trumpism – the inverse of his mania and toxic divisiveness," she continued.
Advertisement - story continues below
She turned her attention to videos that showed "student protesters accosting [Sinema] in a hallway, harassing her and then proceeding to follow her into the ladies bathroom."
McCain said she had watched the video several times, and "the more I watched it, the more horrified and disgusted I became. By the time I went to bed for the night, I was absolutely seething."
"How disgusting have student protestors become not to see that harassing a woman entering a private space is inhumane, moronic and cruel – not to mention, a felony, under Arizona law," she said.
The former talk show co-host went on to remember Rep. Maxine Waters (D-Calif.) "infamously encouraging democrats during the Trump years to harass Trump administration officials in public."
Advertisement - story continues below
"I remember this clearly because I was concerned given that I am a public and controversial conservative woman and also that it showcased a paradigm shift in what was once considered civilized decorum," she continued. "Democrats calling for Republicans to be harassed in public was a new shift that we have not come back from."
McCain said that after Waters' comments, "it's happened to a litany of conservatives."
"The Left does not get to complain about Donald Trump's character and personality when they sit and remain silent about the intensely growing harassment against people who break rank from the beliefs of progressive left in the country," she added.
She continued:
"Now, in the eyes of the progressive left, it is not only evil to be a conservative in the country, it is evil to be a moderate Democrat.

Advertisement - story continues below

Apparently the most dangerous thing a person can be in America is a free-thinker who doesn't bend the knee to progressives […] If you're not on board with them, they attack you."
Finally, McCain said she believes Sinema has said she opposes a $3.5 trillion spending bill because it is not in line with her beliefs.
She added, "[Sinema] is a rebel and there just isn't enough of that in American politics today. There's not a chance in hell, cheap harassment and theatrics in a bathroom stall are going to stop her from doing whatever she intends to do."
Truth and Accuracy
We are committed to truth and accuracy in all of our journalism. Read our editorial standards.
Conversation