McCarthy: Americans Gave Democrats a 'Mandate Against Socialism' in the Election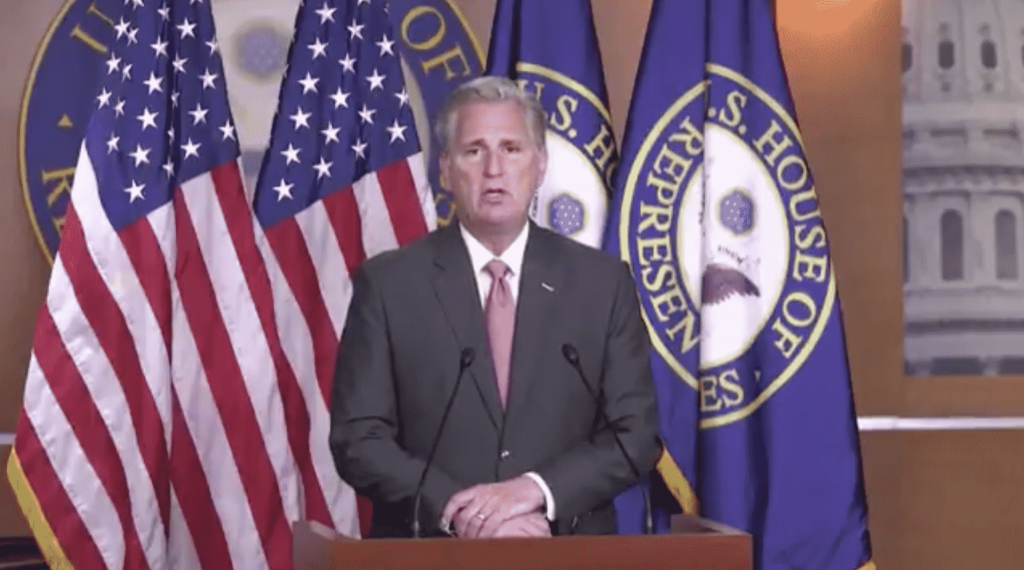 House Speaker Nancy Pelosi (D-Calif.) argues that the Americans have given President-elect Joe Biden a "strong mandate to lead."
However, as House Democrats expected to hold the slimmest majority since World War II after they were expected to expand their majority, many lawmakers are arguing over what message voters are sending to their elected officials.
House Minority Leader Kevin McCarthy (R-Calif.) is arguing voters rejected a progressive agenda by choosing Republican candidates.
"I heard the speaker call it a mandate," McCarthy said on Thursday, adding, "It was a mandate against socialism. It was a mandate against defunding the police. It was a mandate against wasting a majority that the Democrats have done for the last Congress."
He continued, "While the Democrats praised socialism and advocated defund the police, our members made a commitment to America. That they would restore our way of life, rebuild our economy, and renew the American dream."
Watch the video below:
.@GOPLeader Kevin McCarthy: "I heard the Speaker call it a mandate. It was a mandate against socialism. It was a mandate against defunding the police." pic.twitter.com/53hcWoAbWI

— The Hill (@thehill) November 12, 2020
As of 12:30 p.m. EST on Thursday, Republicans had made a net gain of six seats in the House. There are still 15 races yet to be called, and Republicans are leading in several of them.
In the days leading up to the election, Democrats were expected to pick up as many as 15 seats. But, after a surprisingly strong performance by Republican candidates have made put a significant dent in Democrats' majority.
After the election, House Democrats had a conference call where moderate lawmakers blamed their losses on the progressive wing of the party.
During the call, Rep. Abigail Spanberger (D-Va.) pointed to progressive causes as the reason for her party's losses, "We need to not ever use the word 'socialist' or 'socialism' ever again. … We lost good members because of that."
Meanwhile, Rep. Rashida Tlaib (D-Mich.) accused moderate lawmakers of trying to appeal to white, suburban voters. She added, "To be real, it sounds like you are saying stop pushing for what Black folks want."
"If we are classifying Tuesday as a success … we will get f***ing torn apart in 2022," she added.
Rep. Alexandria Ocasio-Cortez (D-N.Y.) warned her colleagues against assigning blame before they have more information about what led to the losses and argued, "The conversation is a little bit deeper than that … than just saying, 'Anything progressive is toxic and a losing message."
House Majority Whip Jim Clyburn (D-S.C.) also suggested that the push to defund police departments hurt his party.
During an appearance on NBC's "Meet The Press," he suggested the push hampered South Carolina Democratic Senate candidate Jamie Harrison. He said, "That stuff hurt Jaimie, and that's why I spoke out against it a long time ago. I've always said that these headlines can kill a political effort."
Shortly after the "defund the police" began to pick up steam following the death of George Floyd, Clyburn came out against the movement, as IJR reported.