McCarthy Does Not Believe Trump 'Provoked' Rioters To Storm the Capitol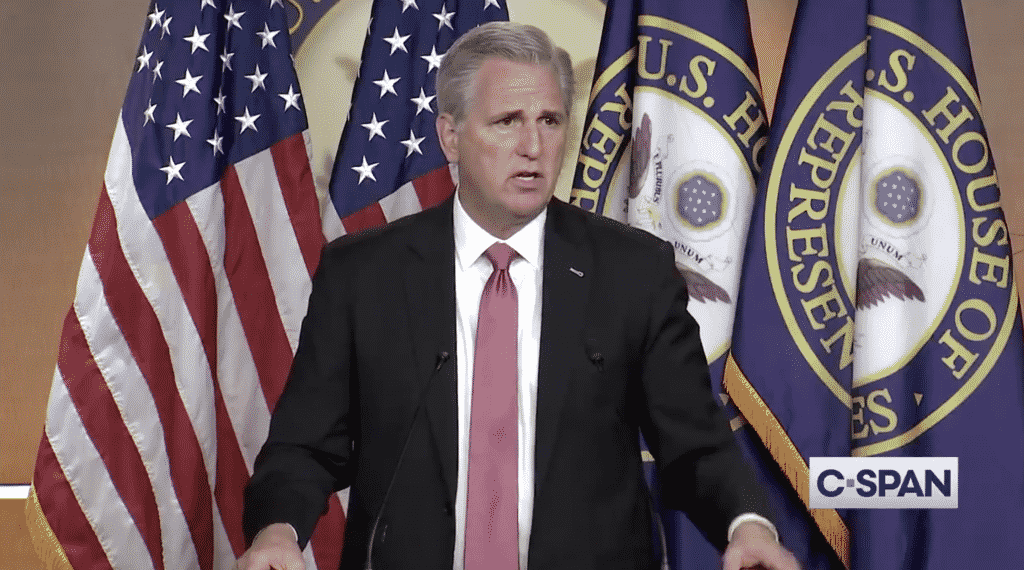 House Minority Leader Kevin McCarthy (R-Calif.) says former President Donald Trump bears some responsibility for the riot at the U.S. Capitol. However, he does not believe the former president "provoked" the mob to storm the building.
During a press conference on Thursday, a reporter noted that Senate Minority Leader Mitch McConnell (R-Ky.) said Trump "provoked" the rioters to storm the Capitol and asked McCarthy if he shares the same sentiment.
"I don't believe he provoked if you listen to what he said at the rally," the California lawmaker responded.
Watch the video below:
.@GOPLeader on if President Trump provoked the attack on the Capitol: "I don't believe he provoked if you listen to what he said at the rally." pic.twitter.com/vtQ64UzyRq

— CSPAN (@cspan) January 21, 2021
A mob of violent Trump supporters stormed the U.S. Capitol on January 6, leaving at least five dead and interrupting proceedings meant to certify the results of the Electoral College vote.
Just one week after the incident, the House voted to impeach Trump on the charge of "incitement of insurrection."
The Senate will now hold a trial where it is uncertain whether any Republican senators will vote to convict Trump on the charge.
McConnell said in a floor speech on Tuesday that rioters were "provoked by [Trump] and other powerful people."
Still, it is unclear whether the Kentucky senator would vote to convict Trump. He previously told his colleagues that he had not decided how he would vote.
While McCarthy opposed the impeachment vote and has said he does not believe Trump provoked the rioters, he has said that the former president does bear responsibility for the riot.
"I believe impeaching the president in such a short timeframe would be a mistake. No investigations have been completed, no hearings have been held," McCarthy said during a speech on the House floor ahead of the impeachment vote.
He added, "The president bears responsibility for Wednesday's attack on Congress by mob rioters. He should have immediately denounced the mob when he saw what was unfolding."