McConnell Says Rioters Who Stormed the Capitol Were 'Provoked' by Trump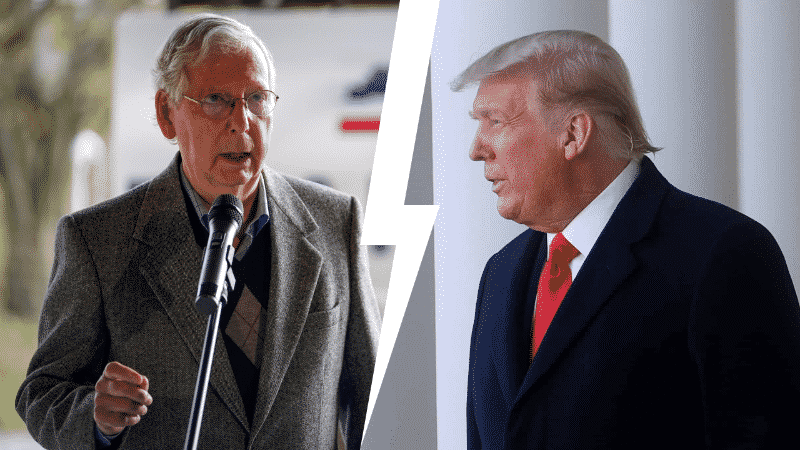 Senate Majority Leader Mitch McConnell (R-Ky.) is not publicly sharing whether he intends to vote to convict President Donald Trump on the charge of "incitement of insurrection."
However, he is laying some of the blame for the January 6 riot at the U.S. Capitol at Trump's feet.
During a speech on the Senate floor on Tuesday, McConnell said, "The last time the Senate convened, we had just reclaimed the Capitol from violent criminals who tried to stop Congress from doing our duty."
"The mob was fed lies. They were provoked by the president and other powerful people. And they tried to use fear and violence to stop a specific proceeding of the first branch of the federal government, which they did not like," McConnell continued.
He added, "But we pressed on. We stood together and said an angry mob would not get veto power over the rule of law in our nation — not even for one night."
McConnell noted that despite the riot, Congress voted to certify the results of the Electoral College vote and predicted that there would be a "safe and successful" inauguration on January 20.
Watch the video below:
.@senatemajldr on the U.S. Capitol Attack: "The mob was fed lies. They were provoked by the president and other powerful people." pic.twitter.com/QIeviyHkl3

— CSPAN (@cspan) January 19, 2021
McConnell's comments come roughly two weeks after pro-Trump rioters stormed the Capitol, bringing a halt to Congressional proceedings and leaving at least five dead.
One week after the incident, the House voted to impeach Trump on the charge of "incitement of insurrection" as lawmakers pointed to his speech at a rally shortly before the security of the Capitol was breached.
Ten House Republicans voted to impeach Trump, a stark break from just over one year ago when no Republicans voted in favor of impeachment.

While McConnell has not publicly said how he intends to vote, several reports appear to suggest that he may be in favor of voting to convict Trump.
The New York Times reports that McConnell is "pleased" with the latest push to impeach Trump. And Axios reported that there is a "better than 50-50 chance" the Kentucky lawmaker would vote to convict Trump.
In a letter to his Republican colleagues, McConnell wrote, "While the press has been full of speculation, I have not made a final decision on how I will vote."
"I intend to listen to the legal arguments when they are presented to the Senate," he added.